Do you know what Premium Tabs is?
Premium Tabs says that it will enhance your Internet searching experience. Moreover, it would do it completely for free. Have you heard that the only free cheese is in the mousetrap? This is exactly the case. You may only open a backdoor to potential invaders by using this program. On top of that, Premium Tabs is not even an original product, but just an exact duplicate of the RocketTab application.
Yes, our research team has found that there is no difference between these programs. Like its predecessor, Premium Tabs also names itself as the "top free local search enhancer on the web." Sounds attractive, does it not? Let us use some logic there. If a product is distributed for free, there should be some way how it could become profitable for its developers. And the answer lies in a single word: advertisements. Even the webpage of the application does not cover the truth and says that "PremiumTabs is supported via text advertising."
You have already encountered advertisements generated by Premium Tabs. You see them on the top of your search results, no matter which browser you use. Sometimes you can even find those ads relevant. There is no magic in there, as Premium Tabs gathers information on the websites you visit and searches you make. This allows the program to customize advertisement for you, thus increasing the chance that you will not resist the temptation. However, it is in your own interest to refrain from clicking on ads.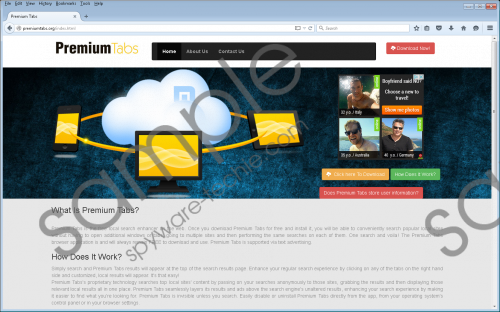 Premium Tabs screenshot
Scroll down for full removal instructions
It is highly unlikely that creators of Premium Tabs have a goal to infect your computer. But the goals of third parties, who are advertising their products or services via Premium Tabs, are unknown, and they may be even very illicit. The third parties could gain control of your data and later use it to expose you to scams. Opening the ads could lead you to the networks where malware is distributed. Yes, those are only the possible consequences. But what is for sure is that all the advertisements are eating your system resources. So, we do not think that Premium Tabs should be kept on your system any longer.
It is not necessary to be a very IT-savvy person if you want to eliminate Premium Tabs from your system. Just follow our guide and the application will be gone. But there is something more essential about your safety. Premium Tabs could not only be downloaded from the official source. This sneaky adware program may also come bundled with freeware that you have downloaded and installed. You should implement a two-step program on increasing your virtual security. The first step would always be going for the Custom installation mode. Do not turn your computer into a container for various unreliable programs and deselect all the suspicious-looking ones. The second step is to acquire an authentic security tool. Scan your computer with it and locate all the potential threats. No program with suspicious intentions will be allowed to enter your computer if you keep your security tool always updated.
Remove Premium Tabs
Windows XP
Launch the Start menu.
Go to Control Panel.
Select Add or Remove Programs.
Remove Premium Tabs.
Windows 7 or Windows Vista
Click the Start button in the lower left corner.
Click on Control Panel.
Go to Uninstall a program and get rid of Premium Tabs.
Windows 8 or Windows 8.1
Simultaneously press the Windows key + X.
Select Control Panel.
Go to Uninstall a program.
Uninstall Premium Tabs.
In non-techie terms:
Premium Tabs is an adware application that shows you various text ads each time you search for something on the Internet. This increases your Internet traffic, moreover, by clicking on those ads you may land on unreliable websites. Premium Tabs is not a very hazardous program, but we do not think that it is worth keeping. Follow our instructions below and eliminate all the unwanted programs with the help of a reliable antimalware scanner, such as SpyHunter.