Do you know what Practise Typing Tests Extension is?
Judging from the name of this application, it might seem that this program is a Chrome extension, but our researchers are more inclined to categorize this app as a browser hijacker. It means that albeit this product might be promoted as an extension, the side effects of keeping it on your computer are far bigger than its initial function. Hence, it is treated as a browser hijacker because the app is very annoying and intrusive. Consequently, it is necessary to remove Practise Typing Tests Extension from your computer before it manages to expose you to potentially harmful content.
When we deal with potentially unwanted or harmful programs, it is important to establish how they get distributed around the web. Normally, malicious infections will enter your system surreptitiously, and you will not know when that happens. On the other hand, when it comes to the likes of Practise Typing Tests Extension, users tend to install such programs themselves even if they do not understand it.
What's more, Practise Typing Tests Extension does not hide its presence from you. The extension even has a page on the Chrome Web Store, so it clearly is not a malicious infection. The prompt that suggest installing the extension may also pop up on your screen when you access various websites that deal with freeware, online gaming, and other third-party content. The point is that this extension cannot be added to your browser unless you agree to it. On top of that, the app may also arrive in a software package with a number of other unwanted applications, so it is necessary to scan your system and see if you have more potential threats on-board. In this case, it might be that you are up against an entire group of various threats.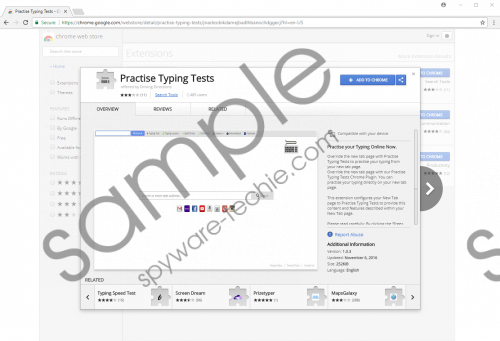 Practise Typing Tests Extension screenshot
Scroll down for full removal instructions
As you can probably tell from its name (again), the extension is supposed to give you all sorts of typing tests. When we open its page on the Chrome Web Store, we see the following introduction:
Override the new tab page with Practise Typing Tests to practise your typing from your new tab page.
Override the new tab page with our Practise Typing Tests Chrome Plugin. You can practise your typing directly on your new tab page.

This extension configures your New tab page to Practise Typing Tests to provide this content and features described within your New Tab page.
From this description, we can tell that the extension will change your new tab settings. However, our research suggests that this extension also redirects search results to affiliated websites. Practise Typing Tests Extension's website says that they have "combined Google and Bing search results to give you a simple, comprehensive search experience." But your search results will be redirected to Bing, and then to Yahoo! Search page. Of course, it does not mean that Yahoo! Search is in any way related to this extension. Quite a lot of freeware apps make use of reliable search engines to display customized search results.
In this case, customized search results might be the biggest security threat because the extension clearly does not screen the links it promotes. Such search results will be tailored according to your web browsing habits, and they will lead you to unfamiliar third-party websites. For the most part, Practise Typing Tests Extension is clearly there to make some money by redirecting you to some advertising pages, but it is also possible to get exposed to malware-related sites through such redirections. This is exactly what you have to avoid by removing this extension today.
It is not that hard to delete the extension, although you should terminate it via Google program files folders rather than through your browser's settings. Follow the instructions below to get rid of Practise Typing Tests Extension for good.
When you have this extension removed, do not forget to scan your computer searching for other unwanted programs. Such intruders seldom travel alone, so you will do yourself a favor if run regular system security checks with a powerful antispyware tool of your choice.
Manual Practise Typing Tests Extension Removal
Press Win+R and type %LocalAppData%. Click OK.
Go to Google\Chrome\User Data\Default.
Find and delete the Preferences, Secure Preferences, and Web Data files.
Open the Extensions folder in the Default directory.
Remove the jnacleobikdamejbadlhbanochdggecj folder.
Scan your system with SpyHunter.
In non-techie terms:
You must have installed Practise Typing Tests Extension on your Chrome browser accidentally. This is the extension that redirects your search results through several other search engines. It is very likely that this application tracks your online activity. That is why you could be exposed to a lot of corrupted content. This corrupted content can even lead to a malware infection. Therefore, the sooner you remove Practise Typing Tests Extension from your computer, the better.