Do you know what Pop Bubbles is?
Pop Bubbles is nothing more than yet another invasive adware program that you should avoid at all times. Make sure to ignore all claims stating that this application could be of great use as it should improve your overall online experience. While these claims sound tempting, you must know that in reality such statements are only made as a marketing gimmick to tempt users into downloading and installing this program without realizing what it really is. In reality, this adware program does almost nothing to help with your daily online activities; instead, it does the opposite as it in most cases it causes numerous disruptions, at times making web browsing virtually impossible. Additionally, this intrusive piece of software could be the reason other suspicious and even malicious programs might be able to enter your PC without a lot of trouble. Such invasive features are the main reason our malware researchers highly advise you to delete Pop Bubbles without any second thoughts. Make sure to terminate this ad-supported application by following the removal guide that we provide below. The rest of this article contains further information about the suspicious functionality of this adware program.
Like quite a few other similar adware programs that are active today, Pop Bubbles mostly relies on a questionable browser extension that it implements as soon as it enters your operating system. It is important to note that the intrusive adware program also starts a background system service that is also an essential part of this ad-supported program. The system service working together with the browser extension establishes connections to various adware servers, which are suspicious, to say the least. One of the most annoying things about this adware is the fact that it does provide tons of unwanted third-party web content that usually presents itself as invasive ads, annoying pop-ups, and useless coupons. Keep in mind that all the content that this adware program presents is, in reality, utterly worthless. The fact is that all such content will only interfere with your online experience on a daily basis; at times, the share amount of ads, pop-ups, and coupons could make surfing the web virtually impossible. It goes without saying that such activity is one of the main reasons we strongly advise you to delete Pop Bubbles. Keep in mind that by terminating the browser the browser extension of this adware will most likely not be enough to stop the annoying activity altogether. You must deletre the adware program in question as a whole in order to regain the standard functionality of your web browser; if you fail to do so, your web browser will continue to be flooded with tons of ads, pop-ups, and coupons.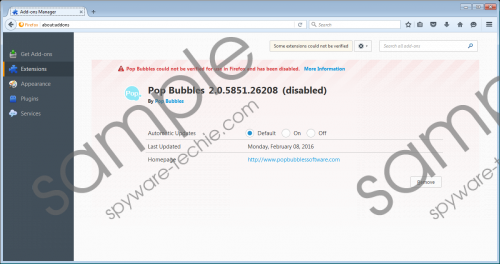 Pop Bubbles screenshot
Scroll down for full removal instructions
Even though annoyance and frustration are the main features that Pop Bubbles exhibits it has to be noted that at times it could act in a potentially malicious way. During our research, we have found out that at times this adware program could serve as a gateway for other suspicious programs. At times, this program could trigger random silent download by contacting those suspicious adware servers, which are infamous for being closely related to malware distribution. Thus, if you happen to have Pop Bubbles already running on your computer, you should take immediate action to check your operating system for other suspicious programs. It goes without saying that even though such instance is not that often it holds a risk that you should never take; especially knowing the fact that your PC could get infected with some unknown malware without your knowledge. If any dubious programs are found active on your computer, you should terminate them along with this intrusive adware.
The removal of Pop Bubbles is imperative since it exhibits potentially malicious features and, in fact, does not exhibit any valuable features. Make sure not to skip a single removal guide step as you could risk of not removing the invasive adware program entirely, which could also have undesirable outcomes. Just a few leftover files or registry values could be more than enough to trigger a silent restoration procedure. To avoid finding yourself in such a situation, our research team advises you to run a detailed analysis of your computer to be sure that every single bit of it has been terminated.
How to remove Pop Bubbles from your PC
Windows 10
Right-click the Windows button.
Select Control Panel and click Uninstall a program.
Select Pop Bubbles and click Uninstall.
Windows 8 and 8.1
Right-click your Task Bar.
Select Control Panel.
Click Uninstall a program.
Right-click the unwanted program.
Select Uninstall.
Windows 7
Click the Windows button.
Select Control Panel.
Click Uninstall a program.
Double-click the malicious application.
Confirm that you want to remove this adware.
Windows XP
Click Start and select Control Panel.
Select the Add or remove programs option.
Click the Remove option.
In non-techie terms:
Do not worry if you find manual removal and analysis of your computer too complicated. Our research team at Spyware-Techie.com provides an alternative removal guide that will help you delete Pop Bubbles entirely in an automatic way. Make sure to use it since complete removal of this adware is imperative to your overall system security.