Do you know what Pop-2-Top is?
Do you wonder what benefits the program named Pop-2-Top can bring you? It will come as a surprise, but everything is disclosed in the name of this application. The only feature this program offers is the possibility to access the top of every website from any spot on that site. And nothing else. In return for this "useful" option, the program will bombard you with commercial offers, coupons, and pop-ups. You should not keep useless adware applications, so remove Pop-2-Top and forget about its existence.
Do you find advertising spam in your mailbox every morning? Do you feel annoyed by those commercial offers? If yes, then imagine that the level of your irritation will increase several times if you allow Pop-2-Top to stay on your device. The program installs an extension to your Internet browser, and this allows Pop-2-Top to display ads through it each and every time you decide to surf the Web. Those ads are served by this program, its affiliates, and even third parties. The program is free and only the users who click the ads might make the application profitable for its developers. Do not be that user, as you may encounter inappropriate content in case you click on any ad generated by Pop-2-Top. Those third parties that serve the ads may turn out to be untrustworthy, and what you find on their websites may be offensive to you. And, yes, you will surely land on unknown websites since advertisements you see contain redirect links.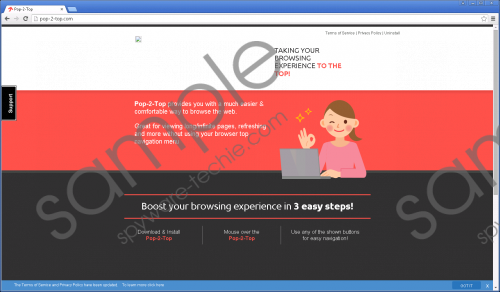 Pop-2-Top screenshot
Scroll down for full removal instructions
What's more, Pop-2-Top is not currently distributed via any official source. Our researchers have found that this application is developed by Virtue Interactive Ltd. This company stands behind PassWizard, and the latter program should be removed from your computer, too, as you may find in our review on this page. Pop-2-Top, as well as PassWizard, will probably be found only in software bundles. Of course, how else to disseminate worthless applications if not by trying to make users install such programs without their noticing it? Creators of malicious applications also often put their programs in packages with free software applications. So, you need to be very careful while downloading anything from file sharing websites, and it is essential to always read the terms and conditions of the downloaded program.
Probably you are already eager to remove Pop-2-Top from your computer and look for a proper way to do this. During tests we have conducted in our laboratory, we discovered that this program can easily be eliminated in a few simple steps. You need to locate the application on your program list and then just remove it. Follow the instructions you find below to get rid of Pop-2-Top manually. But we suggest that you consider acquiring a legitimate antimalware program. Various new infections are created on a daily basis, and it is very hard to fight each of them by yourself. A reliable security tool will keep you protected against all kinds of Internet threats with one condition: Always have the latest version of it installed on your computer.
Pop-2-Top removal
Windows 7 or Windows Vista
Navigate to the Start menu and select Control Panel.
Open Uninstall a program and remove Pop-2-Top.
Windows 8 and Windows 8.1
Press the Windows key + I.
Click Control Panel and go to Uninstall a program.
Eliminate Pop-2-Top.
Windows XP
Access the Start menu and launch Control Panel.
Go to Add or Remove Programs and remove Pop-2-Top.
Windows 10
Right-click the Windows logo.
Access Programs and Features.
Uninstall Pop-2-Top.
In non-techie terms:
Pop-2-Top promises to enhance your browsing experience and says you will view the long websites much more easily. But the only thing this adware program is capable of is redirecting you to the top of the page you are currently visiting. You should not keep this application, as it shows obnoxious advertisements while you browse the Web. Moreover, its developers use shady methods of distribution, and you need to scan you PC to see whether any other infections have come to your computer along with Pop-2-Top.