Do you know what PlayGem is?
Lovers of puzzle games may appreciate PlayGem, as it looks like a perfect way to spend some free time. The program offers 30 entertaining levels, is free, and does not require any subscription. However, this application raised our suspicions, and we have decided to test it in our lab. Our findings led to the conclusion that you should forget about entertainment and remove the program from your computer. Despite its attractiveness, PlayGem is an adware application that has tricked you and entered your system without your knowledge. By keeping it, you will soon find that your Internet browsing experience is changed in a negative way.
First of all, you will encounter pop-ups each time you surf the Web. Little by little it will start to annoy you. Second, from time from time, PlayGem will display ads right in the middle of your screen. Imagine that you are working on a very important project that requires maximum concentration and you are continually disturbed by this application. It could be that you may lose your nerve and click on those advertisements in desperation, thinking that they would leave you alone afterward. But you will only increase your problems, as ads provided by PlayGem may contain redirect links to third-party websites. The program is not responsible for any content generated by third parties and is "not liable for any damage or loss caused or alleged to be caused by or in connection with your use of third-party services." So, if the third-parties use your personal information for illicit goals, creators of PlayGem will throw all the responsibility on you.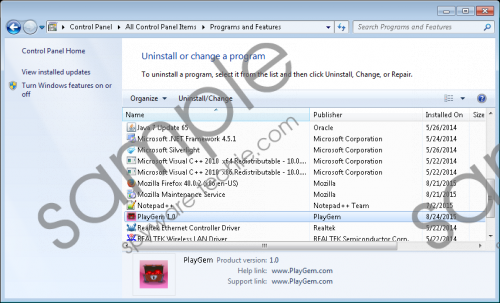 PlayGem screenshot
Scroll down for full removal instructions
You may ask how this application has tricked you. The fact is that there is a download button on the official site of PlayGem, but at the moment it is broken. This means that this program found another way to sneak onto your computer. Adware applications are usually distributed using the software bundling method. Probably you were enticed by an offer to download some update to your media or Flash player while visiting p2p file sharing websites. However, the download button was fake, and you allowed some potentially malicious programs to enter your system. PlayGem also arrived in their company.
You will act in your best interest if you delete the application as soon as possible. Fortunately, even an average computer user can do it in a couple of seconds. The program can be removed via Control Panel. By following our instructions, you should face no trouble in getting rid of this intrusive application. However, if PlayGem has found a way to enter your system, it means that you should avoid some security flaws as well. Do not download any program from unreliable sources and carefully examine each and every application you want to accept. Now you are dealing with this piece of adware, but the next time it could be an almost lethal infection that can force you to format your hard drive. It is almost impossible to fight all the invaders alone, so acquisition of reliable antivirus software is almost a must.
How to remove PlayGem
Windows 8 or Windows 8.1
Right-click on the Windows logo in the bottom left corner of your screen.
Select Control Panel.
Access Uninstall a program and remove PlayGem.
Windows XP
Launch the Start menu.
Access Control Panel.
Open Add or Remove Programs.
Remove PlayGem.
Windows 10
Simultaneously press the Windows key +R.
Type Control and click OK.
Go to Uninstall a program and eliminate PlayGem.
Windows 7 or Windows Vista
Open the Start menu and launch Control Panel.
Go to Uninstall a program and remove PlayGem.
In non-techie terms:
PlayGem is a puzzle game that may look quite captivating at first sight. But in reality this program works like an adware application: It spies on you by collecting your information, shows you disturbing pop-ups, and attacks you with advertisements that appear in the middle of your screen. Moreover, the program may contain links to potentially untrustworthy third parties. Therefore, the most rational decision is to follow our instructions and eliminate the program.