Do you know what PlayBryte Virus is?
PlayBryte Virus is a browser add-on which you would have to download and install in order to play various games on playbryte.com. The website contains various advertisements which change regularly, and if you do not pay attention to them, instead of one of the games provided you may be directed to an unwanted website.
It is said that it is possible to deactivate third-party ads which can be done by unchecking the box present in the Deactive section on the website. However, it is also added that "PlayBryte must still be installed for this setting to function".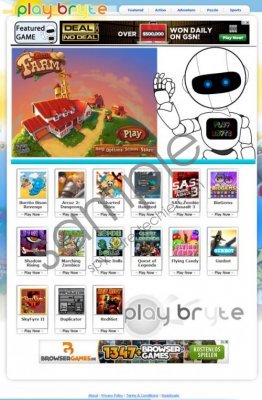 PlayBryte Virus screenshot
Scroll down for full removal instructions
If you have installed PlayBryte, you must have noticed its installer claims that you will be provided with advertisements. Here is one of the entries given in the installation wizard of PlayBryte Virus:
In order to keep your content fee, PlayBryte will display inline text and banner adds into the content you view while surfing the Web.
After having installed this adware application, you will be constantly bombarded with pop-up message which appears in the lower right corner of the screen. Even when the application is installed, a greenish message is displayed:
The PlayBryte add-on as been Installed successfully on your computer. You will now be able to play all the games on PlayBryte.com!

In order to keep your content free, PlayBryte will display an average of four (4) ads per page.

Play Bryte will display banner and inline ads in the content you view based on keywords and URLs you visit.
If you would like to uninstall PlayBryte, follow the instructions here.
As you can see, the application does not hide how the advertisements will be generated. It will monitor you actions even then you are on other websites. One of the means to monitor you and collect information about your browsing sessions is by implementing a browser helper object, which, for example, is installed onto Internet Explorer.
In order to put an end to annoying advertisement that may put your PC in danger, you should uninstall PlayBryte from the PC once you find that it has been installed along with some other program or when you find it annoying. By using a spyware removal tool you can delete the unwanted application and ensure that the computer's performance will not be affected. In any case, we provided step-by-step instructions which will help you uninstall PlayBryte.
PlayBryte Virus Removal
Windows XP
Click Start - > Control Panel.
Select Add or Remove Programs.
Select PlayBryte and click the Remove button.
Windows Vista and Windows 7
Open the Start menu.
Click Control Panel.
Select Uninstall a program.
Double-click PlayBryte to uninstall it.
Windows 8
Move the mouse over the lower left corner of the screen.
Right-click.
Select Control Panel.
Under Programs, select Uninstall a program.
To make sure that you can use the computer without being afraid of new viruses and the ones that may be present, scan the PC with our free scanner which you can download by clicking the button given.
In non-techie terms:
PlayBryte Virus is an application which enables the user to play online games on PlayBryte platform. Moreover, this application is regarded as adware for it serves advertisements which are displayed even when the user does not play the games on playbryte.com.
Aliases: PlayBryte.