Do you know what Pizzacrypts Ransomware is?
An application that goes by the name of Pizzacrypts Ransomware must be terminated at the very same moment that it enters your operating system. Just like any other ransomware program, the one in question is capable of locking your data. This means that having it on your personal computer will most likely result in a huge data loss. On top of such malicious functionality, this malware could also prove to be the main reason your personal computer could get filled with potentially harmful programs. This is so because it can connect to the Internet without any authorization. Read the rest of our report to find out more about the invasive activities of this ransomware as well as to learn how you can improve your virtual security. Along such critical information, we provide a detailed removal guide that will allow you to terminate Pizzacrypts Ransomware ins just a few simple steps.
As soon as this malware experts your operating system it will start encrypting the personal files within your operating system. The Pizzacrypts Ransomware is fully capable of locking the majority of your files on your computer; meaning that .docx, .doc, .txt, .pdf, .png, .jpg, and a variety of other files will be encrypted. Unfortunately, all of this will be done in a silent manner, meaning that the majority of computer users will not even realize that this ransomware program is already up and running on their operating system. Once the encryption is done, the aforementioned files will be renamed to image.bmp.id-1292199990_maestro@pizzacrypts.info. In addition to all of this, the devious program will embed a .txt file with instructions of what you should do to regain access to your data. Within this devious file, you are told to use bitmessage, to send an email to the developers of this ransomware. We highly advise you to not contact vendors of Pizzacrypts Ransomware as you could expose sensitive data. If all of this was not enough, you must also be aware of the fact that the malware in question could trigger downloads of potentially malicious software during its unauthorized connectivity to the web. Thus, if you already have it active on your PC we highly advise you to analyze your computer for other potentially harmful programs. It should be more that obvious that the removal of this malware is essential. Follow the instructions that we present below to terminate it once and for all.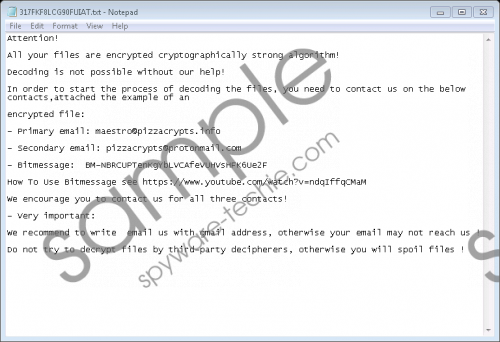 Pizzacrypts Ransomware screenshot
Scroll down for full removal instructions
To avoid potentially devastating consequences of having Pizzacrypts Ransomware fully active on your personal computer, you must take preventative measures to maintain a fully secure system. First and foremost make sure to install a professional antimalware tool since it is your best bet to keep your operating system free of any dubious or malicious programs. This is so because such a tool is capable of identifying and warning you about any devious content online or within your personal computer. Also, you should practice safe browsing habits as it can significantly reduce the risk of exposing your personal computer to suspicious and potentially harmful web content. As it turns out Pizzacrypts Ransomware is mostly distributed via spam e-mail attachments; thus making sure that an e-mail attachment that you are about to obtain came from a known source is critical. Lastly, we would like to highlight the importance of bypassing any suspicious third-party web pages; often such site hosts dubious software, which could even prove to be malicious. If you take these few simple preventative steps, your operating system will remain safe and secure at all times.
The complete removal of Pizzacrypts Ransomware must be executed without any hesitation. This is crucial since the earlier you can identify and terminate this devious program the larger amount of data you will secure from encryption. Follow the instructions that we present bellow and once you are done with them, make sure to run an extensive analysis of your personal computer for potential leftovers linked to Pizzacrypts Ransomware. This is critical as it is the only way to be sure that everything associated with this malicious piece of software has been removed from your computer once and for all.
How to remove Pizzacrypts Ransomware
Open your File Explorer.
Navigate to C:\Users\[your username]\Downloads.
Locate the malicious .exe file inserted by Pizzacrypts Ransomware.
Right-click the malicious .exe file and select Delete.
In non-techie terms:
Since manual removal requires a manual file termination, it is not surprising that the some user might find manual removal a bit too challenging. If you happen to be one of those users, simply follow the instructions that we present below. By doing so you will be able to delete this ransomware in an automatic manner.