Do you know what Phrase Professor is?
Phrase Professor is one of those adware applications that try to trick users into thinking that it is useful. It is recommended that you remove it at your earliest convenience, but we must discuss it in more detail, because many users might feel confused. This application is not all bad. It is said that this program helps searching for and translating information online that much easier. It is true, but only to a degree. If you want to know more about the pros and cons of having Phrase Professor, we invite you to read the full article.
The program's website at Phraseprofessor.com clearly states that "Phrase Professor is ad-supported software." This is a nice change of pace, since in most cases you can only find out whether an application is ad-supported by reading the EULA or Terms of Use. Nevertheless, there are hints that this application is unreliable by looking at who made this application. The website states that this application is made by Phrase Professor. Obviously, the product and the company cannot have the same name. Moreover, this application has numerous clones that include but are not limited to InfoAtoms, LinkWiz, TermBlazer, and WordSurfer. All of these applications appear to be products of themselves, but they are all registered at the same address - 5580 La Jolla Blvd. 511, La Jolla, Calif.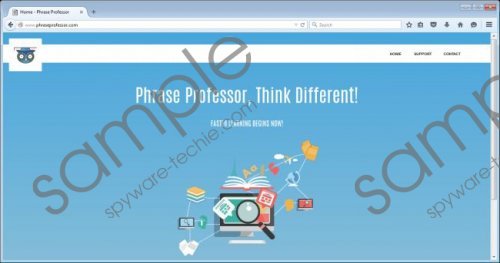 Phrase Professor screenshot
Scroll down for full removal instructions
Some newer versions, such as InfoAtoms, can be downloaded directly from the website, but older versions, such as Phrase Professor cannot. Phrase Professor is known to be distributed on freeware distributing websites, such as Softpedia.com. Now, it can either be put up for download as a standalone application or it might be bundled with other programs. Note that the downloads are constantly taken down and put back up again, so we cannot say with absolute certainty that Phrase Professor is always disseminated using particular means. So that covers the application's means of distribution and origins.
Now, let us discuss how this application works. Using it is actually very easy, provided that you need an application like this, because it is not for everyone. You can highlight a certain phrase or a word and Phrase Professor's icon will appear on the top right of the text. After clicking it you will be presented with a window that consists of three tabs dedicated to performing a different function. The first tab will display information found on Wikipedia.com. The Second tab will translate the text into a language of your choice, and the third tab fill display linguistic information about a particular term.
All of this is well and good, but Phrase Professor in known to display third-party advertisements that will not make you Internet surfing any easier. The Terms of Service contains a quote which states that "PhraseProfessor will not be responsible or liable, directly or indirectly, for any loss or damage of any sort arising out of or related to any dealings with any such third parties or as the result of the presence of the opportunity to connect with such third parties." So it can be suggested that the developers might know that some the ads might be unreliable, yet they still deal with shady advertisers.
This is absolutely unacceptable. It is clear that Phrase Professor is an unreliable application that you should remove at a moment's notice, because the content promoted by it comes from unreliable sources. This program might be useful for some people, but it's not worth risking your computer's security. For this reason we suggest that you uninstall this application and enjoy ad-free browsing.
Uninstall Phrase Professor from Windows
Windows 8 & 8.1
Press the Windows key+R.
Type Control Panel and click OK.
Go to Uninstall a program.
Locate Phrase Professor and right-click on it.
Click Uninstall.
Windows Vista & 7
Open the Start menu and go to the Control Panel.
Click Uninstall a program.
Locate Phrase Professor and right-click on it.
Click Uninstall.
Windows XP
Open the Start menu and go to the Control Panel.
Open Add or Remove Programs.
Locate Phrase Professor and click Remove.
How to remove Phrase Professor from your browser
Google Chrome
Simultaneously tap Alt+F.
Select More Tools and click Extensions.
Find the extension and click Remove.
Microsoft Internet Explorer
Simultaneously tap Alt+T.
Select Manage Add-ons.
Find the extension and click Remove.
Mozilla Firefox
Simultaneously tap Ctrl+Shift+A.
Select Extensions.
Find the plug-in and click Remove.
In non-techie terms:
Phrase Professor is a rather cleverly disguised adware program. It has some useful functions that justify its presence on your computer. However, we recommend that you remove it, because it displays ads that re provided by third-party advertisers. The application's developers are not responsible for the potentially damaging content that they promote, so the ads are not only annoying, but dangerous as well. So do not hesitate and remove it as soon as possible either manually or using a malware removing application.