Do you know what PhishAlert is?
There are lots of applications on the web that pose as security apps, just like PhishAlert tries to make you believe that it blocks phishing websites while you are surfing the web. Unfortunately, our researchers have found it a useless and unreliable tool that is, in fact, an adware program. As such, it is capable of displaying annoying and potentially dangerous third-party commercial ads. But it is also possible that this adware is not the only uninvited "guest" on your computer since it may arrive in a free software bundle packed with several other malware applications. So think again if you believe that removing PhishAlert will restore your system health. As a matter of fact, your computer will never be safe again until you eliminate every one of the security threats that may be present on your system. Let us tell you in more detail how this infection can be a risk source and what you can do against similar attacks.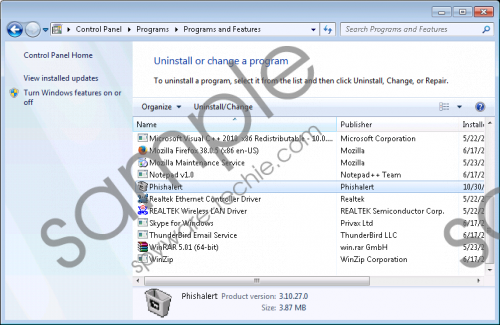 PhishAlert screenshot
Scroll down for full removal instructions
First of all, let us talk about what phishing is because it may shed some light on why this adware application may pose a threat to you and your operating system. According to Wikipedia, phishing is:
…the attempt to acquire sensitive information such as usernames, passwords, and credit card details (and sometimes, indirectly, money), often for malicious reasons, by masquerading as a trustworthy entity in an electronic communication.
It is important to note that adware applications in general may be able to access certain information about you and your browsing habits. These might also be sensitive pieces of information. Sharing these with third parties or potential cyber criminals may end badly for you to say the least. This program poses as a tool against phishing, yet, at the same time, it may be the one that actually introduces you to these dangers. Keeping it on your computer would be rather detrimental to your system security on the long run. Therefore, you should remove PhishAlert if you do not want to be exposed to criminals or their scams.
According to our researchers, there is no official website that would disclose information about this application or where you could directly download it. In fact, it has been noticed that this particular adware infection may have been distributed only for a few days. Still, it is possible that you got infected during this period and you do not even know it yet. Of course, you would not have to worry about such invasions if you had a decent malware removal tool that could filter out such programs or their attempts to enter your PC.
This adware was found bundled with other malware infections, which means that it is quite likely that there are other threats to worry about as well. The most common infections that can come in a bundle may all present to you unreliable third-party websites. Landing on such sites could lead to all kinds of security-related issues, for example, more malware programs on board or even identity theft. Therefore, it is important to run a full system scan after deleting PhishAlert.
It is time to reveal how you can win the war against this adware. If you want to make this threat disappear, you need to run its uninstaller in Control Panel. Please use our instructions if you are not confident regarding the necessary steps. Also, remember that it is possible to avoid certain infections if you keep away from unfamiliar and suspicious websites and you do not click on any types of ads. However, the best solution is always to use a reputable antimalware program to safeguard your PC.
PhishAlert Removal from Windows
Windows XP
Access the Start menu and select Control Panel.
Click Add or Remove Programs.
Select the program and press Remove.
Windows Vista/Windows 7
Press Win+R and type in Control Panel. Hit OK.
Open Uninstall a program.
Select the program and press Uninstall.
Windows 8/Windows 8.1/Windows 10
Tap Win+Q and type in Uninstall a program. Hit Enter.
Select the program and press Uninstall.
In non-techie terms:
PhishAlert is a useless adware program that may show you third-party advertisements. These ads might be gateways to malicious websites; therefore, clicking on them should be avoided at all costs. Since this adware may have entered your computer together with other malware programs, you need to act ASAP. We suggest that you start by removing PhishAlert. Then, you need to take care of the rest of the infections. In order to be efficient, you could use a reliable malware removal application.