Do you know what PCBackupWizard is?
PCBackupWizard is definitely not the most dangerous threat existing today, but our researchers have still found a few issues regarding this application, which landed it in the potentially unwanted program (PUP) category in the end. Most of the inexperienced computer users tend to ignore PUPs, and, as a matter of fact, they may not even realize such programs are on their systems. The reason behind this is that these applications, including this PUP, may be distributed in software bundles packed with other PUPs and even malicious software installers. Therefore, it is possible that you want to install a freeware program and you overlook the step where the content is revealed so you will not even know that a few other "guests" also land on your computer. These uninvited guests may easily introduce you to potentially unsafe web content; therefore, their presence is definitely not desirable, to say the least. According to our researchers, you should delete PCBackupWizard if you want to feel secure using your computer. But it may take more than that if there are other threats as well. Please read our full report to find out about the potential risks and how you can protect your PC from similar attacks.
This application offers you unlimited storage for your documents, photos, videos, and other files you want to store on the web. But it is not really true as it only relates to the Home Plus and Business Pro options. The Free and Home plans are limited to 1Gb and 250Gb. Furthermore, you are also promised enhanced security, automated backup, and access from anywhere. You have four options to choose from depending on how much you are willing to pay for this application and the related services, and what kind of services you need at all. We cannot claim that PCBackupWizard does not deliver and that it does not work properly. However, we do need to mention a suspicious trait it exhibits. Once you activate this program, it pops up an alert message, which is even labeled as "critical" to put more emphasis on it. The message tells you to activate Windows backup now, which we find a bit too pushy. If you go on by clicking OK, the Windows PC Backup Wizard starts up, and this program you cannot even stop running by closing it since you simply cannot close it. This is somewhat worrisome and suspicious. The only way for you to stop this application from running is to open the Task Manager and end the process (PCW_8002.exe).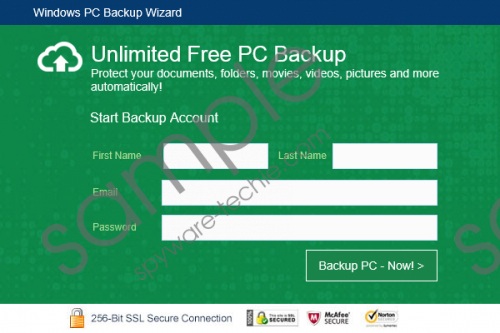 PCBackupWizard screenshot
Scroll down for full removal instructions
Our researchers have found that this PUP can be distributed in at least two ways. The official way is obviously through its own website that you can find at pcbackupwizard.net. While it usually takes a single click of a button to download applications, you might be disappointed to find that here you have to provide your full name and e-mail address first to create an account. Unfortunately, giving this kind of information might result in unwanted customized third-party advertisements in the future. Of course, it is all about creating your storage space on their server, but you should still be careful with creating accounts before you make sure it is a reliable application or company. But we do not think that enough users land on this page to generate enough revenue for the publisher.
As a matter of fact, our researchers have discovered that this PUP can also travel bundled with InstallCore downloaders. You can download such infected bundles from suspicious torrent and shareware sites most commonly. These sites are full of misleading third-party ads, most of which may be disguised to look like a button, such as download and next-page buttons. If you click on any of these or on a pop-up ad that may pose as a Windows dialog box, you may allow a whole package of infections onto your machine. In such an unfortunate case, you will need more than just the removal of PCBackupWizard to restore order on your computer.
We cannot call this PUP a beast that you should eliminate right away, but you still may decide to be better off without it. Therefore, it may be good news for you to hear that you can relatively easily clean this application from your system. Nevertheless, we need to mention that even the uninstaller of this PUP is not fully reliable since it leaves leftovers on your computer, such as registry keys and a folder, too (C:\Windows\System32\Tasks\PCW\PCWRunner). Please follow our guide below step-by-step to make sure that you entirely get rid of this application. If you are unfamiliar with the Windows Registry or the possible consequences of removing wrong keys, we suggest that you use a reliable antimalware application instead. The best protection for your computer is always an automated security tool that can protect your PC from all malware threats known today. Keep it updated regularly and you will have peace of mind.
How to remove PCBackupWizard from Windows
Windows 8, Windows 8.1, and Windows 10
Press Win+X and open Programs and Features.
Click on the application and click Uninstall.
Windows Vista and Windows 7
Press the Windows button in the bottom-left corner.
Open Control Panel.
Select Uninstall a program.
Click on the application and click Uninstall.
Windows XP
Click the Start button and choose Control Panel.
Double-click Add or Remove Programs.
Click on the application and click Remove.
How to remove the leftovers
Press Win+E to open Windows File Explorer.
Type in: C:\Users\user\AppData\Local\lohhbhdkrvmtgix\PCW in the address bar and press Enter.
Identify PCW_8002.exe and remove it.
Type in: C:\Windows\System32\Tasks\PCW in the address bar.
Remove the PCW folder.
Press Win+R and enter regedit to launch the Windows Registry editor.
Find and delete: HKEY_CURRENT_USER\Software\Microsoft\Internet Explorer\Main\FeatureControl\FEATURE_BROWSER_EMULATION\PCW_8002.exe.
Find and delete: HKEY_CURRENT_USER\Software\PCW.
Find and delete: HKEY_LOCAL_MACHINE\SOFTWARE\Microsoft\Windows NT\CurrentVersion\Schedule\TaskCache\Tree\PCW.
Restart your PC.
In non-techie terms:
PCBackupWizard is a potentially harmful program that may bring malware infections on board when it arrives. Due to the possible risks it may hold for you and your operating system, our researchers have categorized it as a potentially unwanted program (PUP). Although this application may not be direct threat to your computer, the malware infections it may arrive with can definitely expose you to unsafe third-party content. Therefore, we advise you to remove PCBackupWizard along with all the malware threats that may endanger your operating system. If manual removal is not your cup of tea, we suggest that you use a trustworthy antimalware application that will also protect your PC from future attacks.