Do you know what PC Maximum Cleaner is?
PC Maximum Cleaner is a potentially unwanted program that is supposed to improve your computer's performance. However, it is highly doubtful whether this application can actually live up to its promises. The program comes with several additional applications that might prove to be dangerous, not to mention that most of the users do not even want to have PC Maximum Cleaner on their systems. Therefore, in order to protect your PC from potential harm, you have to remove this program at once. You can uninstall it via Control Panel, but at the same time you should keep in mind that there could be more potential threats on-board, so you need to take care of those too.
How did PC Maximum Cleaner manage to enter your system? There are several ways how this potentially unwanted program can be distributed. For one, you can download it from pcmaximumcleaner.info. The official website seems to be working just fine, even though it does not offer much information on the application itself. It only says in several sentences that the tool has been "designed to diagnose your PC problems and repair them quickly. It scans your PC and finds the problems and effectively fixes." However, it does not say what kind of problems PC Maximum Cleaner is supposed to find. It just maintains that it can "fix & speed up your computer in under 5 minutes."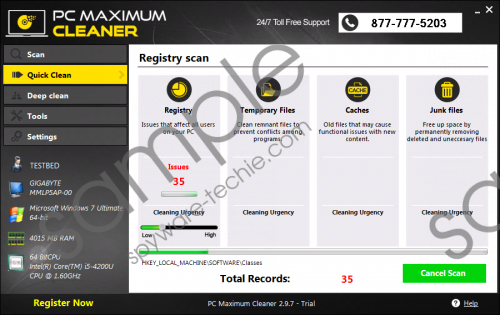 PC Maximum Cleaner screenshot
Scroll down for full removal instructions
However, this is the kind of information you are given when you download PC Maximum Cleaner directly. There are other ways for this application to enter your system too. For example, it is far more common for the potentially unwanted programs to come bundled in software packages. We have mentioned this countless of times before, and we will repeat it again: it is not SAFE to download programs from third-party websites, especially if you do not check every single step on a third-party installer. You might think that PC Maximum Cleaner entered your system behind your back, but the truth is that such applications cannot be installed without user's consent. Thus, you allowed for this program to be set up on your system without even realizing.
Once PC Maximum Cleaner is in, it jumps into action and runs a full system scan. However, the scan results are highly doubtful because the application may claim that you have many issues on your computer, and you need to clean them at once. What's more, in order to fix the so-called "issues" you would need to purchase the full version of the program. Granted, most of the legitimate programs can offer full service only when you subscribe, but those programs do not download more unwanted applications on your system, now do they?
PC Maximum Cleaner, on the other hand, is known to connect to the Internet behind your back and download more unfamiliar programs such as BoBrowser and even Istartsurf.com. When a program brings a browser hijacker to your computer, it is definitely something to be reckoned with, thus, the sooner to get rid of PC Maximum Cleaner from your system, the better.
If you encounter any difficulties while trying to get rid of this application, please let us know by leaving a comment below. You should also consider investing in a licensed antispyware tool that would protect you from similar intruders in the future.
How to Delete PC Maximum Cleaner
Windows 10, Windows 8.1 & Windows 8
Press Win+R and the Run command prompt will open.
Enter "Control Panel" into the open box and click OK.
Go to Uninstall a program and remove PC Maximum Cleaner.
Windows Vista & Windows 7
Open the Start menu and click Control Panel.
Go to Uninstall a program and remove PC Maximum Cleaner.
Windows XP
Click the Start button and go to Control Panel.
Select Add or remove programs and uninstall PC Maximum Cleaner.
In non-techie terms:
PC Maximum Cleaner is a program that most probably was installed on your computer accidentally. It is not clear whether it can perform its functions properly, and it is known that this program downloads from unwanted software onto your system. It is in your best interests to remove PC Maximum Cleaner right now. If you fail to do that, you may risk further exposure to unreliable third-party content and other harmful programs that could seriously damage your PC.