Do you know what PC-BOLT is?
If it happens that you ever detect an application called PC-BOLT which looks like a trustworthy PC scanner, you should delete it from your system as soon as possible because this piece of software only pretends to be useful. Besides, it is very suspicious that it does not have an official website, and it is impossible to find more information about it. Our team of specialists has come across this software on some kind of third-party web page on the web and decided to find out what users can expect from it. First of all, it has been revealed that it is a potentially unwanted program (PUP), which means that there is a possibility that it will work in an undesirable way. If you have already noticed something really strange, or simply do not want to keep a program that has sneaked onto your PC without permission, you should remove PC-BOLT as soon as possible. We suggest that you read this article first before you go for the removal of this application.
As you already know, PC-BOLT does not have an official website and there is not much information about it on the web. Therefore, our specialists have tested this program themselves. The first thing that they have noticed is that this program crashes from time to time. To be honest, there is no doubt that this program contains a large number of bugs. Even though it freezes and crashes, researchers have noticed during their research that PC-BOLT still performs the scan (or at least it pretends to do so). Then, it puts all the system errors it finds in two broad categories: system related errors and unwanted files and traces. Nobody knows whether this software shows trustworthy search results; however, you should be ready to see a number of errors after the scan. You will also be offered to contact the technical support by the given number 1-866-289-9001. Unfortunately, some users dial this number because they feel that they have to do something about those detected errors. We cannot blame those users because they are convinced that their systems do not work properly. On top of that, users also complain that they see fake BSOD (blue screen of death) windows from time to time. They tend to promote another phone number 1-888-451-1606.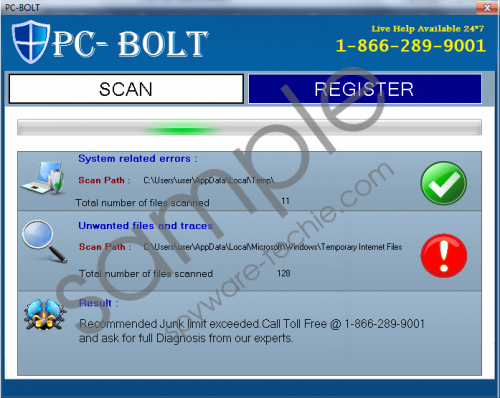 PC-BOLT screenshot
Scroll down for full removal instructions
You should not call any of these numbers because nobody knows whether these system errors really exist. In addition, you might reveal information about you to people working behind PC-BOLT. There is a risk that this information will be sold to third parties. In addition, you might be offered to buy useless software. Of course, people working behind this potentially unwanted program will try very hard to convince you that you need such software to fix system errors. We hope that you have understood that it is better not to call the given numbers and the best would be to remove this PUP from the system completely ASAP. If you are still worried that your PC really does not work as it should, you should scan your system with another trustworthy scanner. Security specialists also suggest that you scan your PC with a diagnostic tool, e.g. SpyHunter after you delete PC-BOLT too because this potentially unwanted program might have sneaked onto your computer together with a bunch of other threats.
It has been noticed that PC-BOLT is usually dropped on the system by a malicious software installer. It is targeted at the U.S region, so it is not surprising that the majority of people who find this program on their systems live there. It is likely that this PUP is available for download on untrustworthy third-party websites as well. Be very careful in the future if you want to make sure that undesirable software cannot enter your system again. Keep your security tool active all the time as well.
Unfortunately, PC-BOLT does not have an uninstaller, which means that you will have to erase it yourself by following our manual removal instructions. You can leave this job for an automatic malware remover, e.g. SpyHunter as well. Of course, it is easier to erase undesirable software automatically, so if you are a less experienced user, it would be better to erase this PUP with the help of an automatic scanner.
Delete PC-BOLT
Launch RUN (Windows key + R).
Enter regedit.exe in the box and click OK.
Move to HKEY_CURRENT_USER\Software\Microsoft\Windows\CurrentVersion\Run.
Right-click on the PC-BOLT value and select Delete.
Move to HKEY_CURRENT_USER\Software\Microsoft\Windows\CurrentVersion\Uninstall.
Remove the value that belongs to PC-BOLT.
Close the Registry Editor and open the Windows Explorer (Windows key + E).
Go to the %Temp% folder.
Remove .exe and .tmp files with names consisting of random letters and numbers, e.g. nsg296C.exe and nsg296C.tmp.
In non-techie terms:
Our instructions will help you to remove PC-BOLT ONLY, which means that you will have to find and erase additional undesirable software after you implement the removal of this potentially unwanted program. If you are sure that you cannot do that alone, scan your system with a reputable scanner. A good diagnostic scanner can be downloaded from our web page, so feel free to do that.