Do you know what Paper-search2016.com is?
Do not download or install a program that goes by the name of Paper-search2016.com as it is just one more browser hijacker that should never be tolerated. Make sure to ignore all possible claims stating that this application could help you improve your overall online experience in numerous ways as they are known to be false. Often developers of questionable programs use misleading marketing techniques to lure unsuspecting Internet users into obtaining an application without understanding how it actually functions. Keep in mind that in reality, this browser hijacker will only cause major disruptions every single time you decide to surf the web. If that was not enough, it is crucial to note that in some instances this devious piece of software could prove to be the primary reason your operating system could get exposed to devious and even potentially harmful web content. Do not waste your time and conduct a complete removal of Paper-search2016.com by following detailed instructions that we present below our report.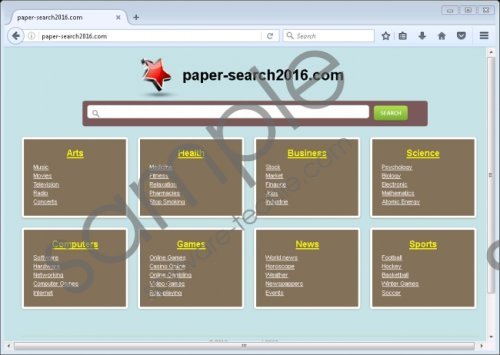 Paper-search2016.com screenshot
Scroll down for full removal instructions
Paper-search2016.com works in a rather simple manner. During our investigation, it has been found out that the browser hijacker remembers other programs of this category in regarding overall functionality. Once it gains full access to your personal computer, your default web browser will be affected in a negative way. It is critical to note that the suspicious application in question is known to affect major web browser such as Google Chrome, Internet Explorer, and Mozilla Firefox, meaning that nearly every Internet user could get their PC infected with it. The main change made by this hijacker is of your default homepage. While such alteration might not seem like much, it is critical to note that it will have a negative effect on your daily online activities, to say the least. This is so because you will be forced to use a questionable third-party website as your default homepage whether you like it or not. It is also important to highlight the fact that the suspicious web page is utterly useless as quick links present within it are totally worthless. If you wish to regain standard functionality of your web browser to surf the web the way you are used to you, make sure to execute Paper-search2016.com complete removal; if you fail to do so, the intrusive modifications made by it will continue to annoy you.
Even though the change induced by Paper-search2016.com is mostly annoying and frustrating, you must be informed that in certain instances it could prove to be quite dangerous as it could expose your operating system to suspicious third-party web content. This could happen if you choose to use the devious search box presented to you within the newly set homepage for your online queries. It is so because you could be provided with suspicious and even potentially harmful results, meaning that they might host redirect links. Thus, by clicking on such a link, you risk of ending up on devious and even dangerous sites. For example, you could end up on websites crafted by cyber crooks; some of them could prove to be running an arbitrary code execution exploit, and just entering them could be more than enough to get your personal computer infected with some unknown malicious program. In other situations, you could be taken to fake online stores which are created for one reason only - to steal your credit card data. It goes without saying that Paper-search2016.com is a major virtual threat that cannot be tolerated. Follow the instructions that we present below to get rid of this browser hijacker in just a few simple steps.
The complete removal procedure must be executed with your utmost attention. This is crucial as it is the only way to be sure that every single bit of Paper-search2016.com has been removed from your PC. It is critical to delete this hijacker in its entirety as just a few leftover files or registry entries could prove to be quite dangerous, to put it mildly. That is so because traces of Paper-search2016.com could be used to restore the hijacker in question silently. To be sure that the devious program in question has been removed successfully, make sure to perform an in-depth analysis of your PC for potential traces linked to Paper-search2016.com right after you are done with the manual removal.
How to remove Paper-search2016.com from your operating system
Open File Explorer.
Go to C:\Users\[your username]\AppData\Local\Google\Chrome\User Data\Default.
Select and remove files entitled Preferences, Secure Preferences, and Web Data.
Navigate to C:\Users\[your username]\AppData\Roaming\Mozilla\Firefox\Profiles\[unique Mozilla profile ID].
Find and delete a file called prefs.js.
Click the Windows button.
Type regedit into a search box and then tap the Enter key.
Go to HKEY_CURRENT_USER\Software\Microsoft\Internet Explorer\Main.
Right-click a registry value entitled Start Page and select Modify.
Replace the unwanted URL with a new one and then click OK.
In non-techie terms:
Make sure to use an alternative removal guide that we present below if you believe that manual removal and analysis of your PC is too complicated. To terminate Paper-search2016.com in its entirety follow the instructions that we present bellow as it will help you to delete it in an automatic manner.