Do you know what ORX-Locker Ransomware is?
ORX-Locker Ransomware is known to be a typical ransomware infection because it enters the system without permission, encrypts users' files, and then demands for a ransom. Like older ransomware infections, this threat deletes itself after it encrypts the majority of users' files. As ORX-Locker Ransomware removes itself, it is not easy to say whether you have really encountered this infection; however, you will definitely know whether you can blame it for the encryption of your files after you read through this article. Our specialists will explain you how this infections acts and why it has been created. In addition, you will also find out what you can do in order to gain access to your files once again.
Ransomware infections seek to obtain money from computer users, so it is not surprising at all that ORX-Locker Ransomware encrypts different files and then says that you have to buy the tool to unlock them. You will notice very soon what has happened because this infection adds the .LOCKED extension to each encrypted file. In addition, the message claiming that all of your files are encrypted will pop-up on your screen. The same message will inform you that you have to read the Payment-Instructions file in order to decrypt your files. Users who open this .html file immediately notice that they have "96 hours to purchase the recovery software" that "includes your unique decryption key." Cyber criminals ask to make a payment in Bitcoins and use the Tor browser because they simply do not want to be caught. It is up to you what to do, but our specialists highly do not recommend doing that because you will probably lose your money and nobody will send you the decryption tool. Do not worry; the situation is not desperate – there is a possibility to recover files from a backup, e.g. USB flash drive, portable hard drive, etc.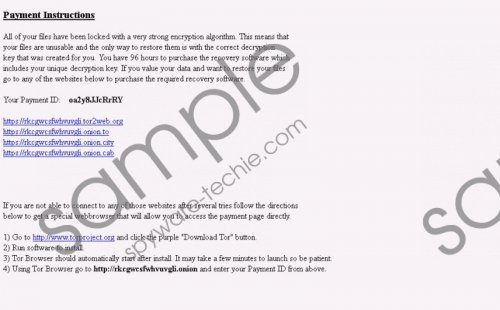 ORX-Locker Ransomware screenshot
Scroll down for full removal instructions
As has been already mentioned at the beginning of this article, ORX-Locker Ransomware is not the only ransomware infection that exists, so you should be very cautious in order not to infect your computer ever again. Research has shown that such serious threats often enter systems when users open spam email attachments. Of course, it is not the only way it can sneak onto your PC. You will not be able to protect your system from such threats because it is very difficult to do that. We know the easier way – you just have to install a security application on your computer. Unfortunately, there are hundreds of other unreliable tools that can install other threats on your PC, so you should make sure that the security tool which you are going to install is effective and reliable. In case you cannot decide which security software to install, you should know that SpyHunter, which is an antimalware suite, is one of those tools that will not let you down.
There is no need to remove ORX-Locker Ransomware because it has already deleted itself from your system. Of course, we cannot guarantee that other untrustworthy programs have not managed to enter your system alongside it.
In non-techie terms:
Even though you do not need to remove this ransomware infection, we highly recommend that you check whether your system is really clean because such threats often enter together with other untrustworthy applications. You can download the diagnostic tool from this website and check the system. If this tool finds infections, you should upgrade it and then scan the system once again. An automatic tool will erase all kinds of infections. On top of that, it will not allow malicious applications to enter your system ever again.