Do you know what Optical Surf is?
Optical Surf is an annoying application that will not allow you to browse online shops properly. The application will spam you with multiple pop-ups, trying to convince you that it can help you purchase various goods at a lower price. Needless to say, none of that is true, and Optical Surf is there to make money for its creators. This adware program cannot cripple your computer or steal your money directly, but it would still be a good idea to remove Optical Surf from the PC.
This application is very similar to Solution Real, NetGranula, Rad Rater, and many other adware programs. All of them belong to the SuperWeb family of unwanted applications. Adware apps from this group are known to have official homepages. Almost all of these homepages share the same layout, although their background image might be different. Thus, opticalsurfturf.com looks very much like a generic website for any other application from the SuperWeb family. Quite obviously, it is not possible to download Optical Surf at the site.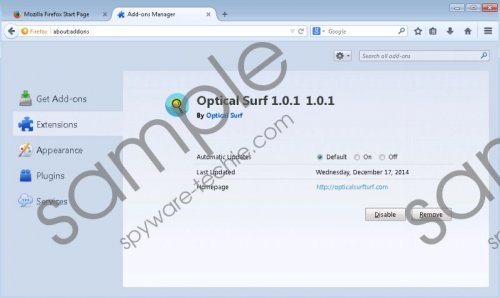 Optical Surf screenshot
Scroll down for full removal instructions
Our security research team says that all programs from this group get distributed bundled with freeware. This means that you have recently installed a program that had Optical Surf in its setup. Even if you did not intend to have this adware app on-board, you are the one who installed it.
Once the installation is complete, Optical Surf adds an extension to your default browser. The main website claims that Optical Surf is compatible with Google Chrome, Mozilla Firefox, and Internet Explorer. However, we have found that the newer Google Chrome versions block this extension citing security reasons. If a reliable web browser claims that Optical Surf must be blocked because it is not safe, it should be enough to convince you to get rid of this application.
If you fail to remove Optical Surf quickly, sooner rather than later you will be spammed with annoying pop-ups. These pop-ups will contain various coupons and discount offers on popular online shops, for example, eBay, Walmart, BestBuy, Amazon, etc. Nevertheless, there is no guarantee that Optical Surf will redirect you to reliable discount website.
In fact, it is far more likely, that you will land on a random adware-related website that needs to increase its traffic to generate financial profit. You might also be exposed to pages that promote adware and other unreliable software. In the worst case scenario, you could get infected with malware.
This will not happen if you remove Optical Surf immediately. Uninstall the program via Control Panel and then invest in a licensed antispyware tool that will your PC is protected from similar intruders in the future.
How to remove Optical Surf
Windows 8
Move the mouse cursor to the bottom right of your screen.
Click Settings on the Charm bar and go to Control Panel.
Open Uninstall a program and remove Optical Surf.
Windows Vista & Windows 7
Open the Start menu and click Control Panel.
Click Uninstall a program and remove Optical Surf.
Windows XP
Click the Start button and navigate to Control Panel.
Select Add or remove programs and uninstall Optical Surf.
In non-techie terms:
Optical Surf is a computer application that will slow down your browser. It will display a lot of annoying pop-ups. Sometimes it can lead to serious computer security problems. Therefore, it is your duty to remove Optical Surf from your system as soon as possible.