Do you know what Oh My Coupons is?
Oh My Coupons is an adware program that can inadvertently expose you to potentially corrupted content. Adware programs are created in order to generate financial profit for their developers. They do that by promoting third-party content and redirecting users to affiliated websites. This kind of activity is more annoying than dangerous, but it is not protected from potential exploitation. That is why we urge users to remove Oh My Coupons from their systems before it is too late to do anything about it. Save your time and money by nipping the problem in the bud.
It is possible that there is more than just one unwanted application on your PC. We do not think that you downloaded from its official website via ohmycoupons.com. Even if you did access the website, you probably did not find a working download link. It is very common that adware programs have dysfunctional homepages that are devised to make them look reliable. Unfortunately, there is nothing reliable about Oh My Coupons because the program does not even check whether the content it promotes is safe or not. This should be enough to convince you that you must terminate Oh My Coupons, but, if you need more arguments, then let us go back to what we mentioned at the beginning of this paragraph: multiple unwanted applications.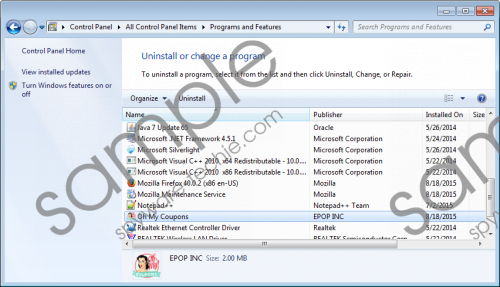 Oh My Coupons screenshot
Scroll down for full removal instructions
How do these programs enter your computer? Why is Oh My Coupons installed together with additional applications? Everything is related to the popular freeware distribution method called software bundling. It means that several programs are grouped together in a bundle, and they are distributed by a third-party installer. When a user runs this installer, all the programs are installed together at the same time, especially if the user does not customize anything. The same method is also employed by Couponarific, Scorpion Saver, Savings Bull, RRSavings, and many other programs that are directly related to Oh My Coupons. This just shows that the program follows in the footsteps of its predecessors, and the only reason it enters your computer is financial profit.
Of course, we cannot say that Oh My Coupons tries to steal your money, or it wants to infect you with malware. The program is not that malicious. The problem is simply that such adware applications can be easily misused by cyber criminals. Oh My Coupons outsources the ad content from third-party advertising networks, so basically anyone could embed their content into those ads as long as they know how.
It is only natural that no one wants to deal with a malware infection because that could eventually result in a complete system failure. You could prevent all that if you removed Oh My Coupons and other adware applications from your system today. You can simply uninstall them via Control Panel because adware programs often have entries in the list of installed programs.
However, to be absolutely sure that your computer is safe and clean, you should run a full system scan with a computer security tool of your choice. This way, you will get rid of all the dangerous programs automatically, and your computer will be protected against other dangerous intruders in the future.
How to Delete Oh My Coupons
Windows 8 & Windows 8.1
Move the mouse cursor to the bottom right of your screen.
Click Settings on the Charm bar and navigate to Control Panel.
Select Uninstall a program and remove Oh My Coupons.
Windows 10
Right-click the Windows icon and select Control Panel.
Open Uninstall a program and remove Oh My Coupons.
Windows Vista & Windows 7
Open the Start menu and navigate to Control Panel.
Select Uninstall a program and remove Oh My Coupons.
Windows XP
Click the Start menu and go to Control Panel.
Navigate to Add or remove programs and uninstall Oh My Coupons.
In non-techie terms:
Oh My Coupons is an annoying program that displays shopping offers. You should not click any of the offers because you might end up getting redirected to unfamiliar websites. To protect yourself and your computer from potential harm, you should delete Oh My Coupons right now. If you need any assistance with the adware removal, you can leave us a comment. Also, for an alternative software removal method, please refer to the secondary set of instructions below.