Do you know what Offertz is?
Offertz is an adware application that gathers data on what websites you visit and what you search for online. When it processes all the collected information, Offertz generates customized commercial advertisements that are supposed to assist you in purchasing your favorite goods at an optimal price. However, there is a high chance that the program may accidentally redirect you to corrupted websites that collect personally non-identifiable information. Security experts recommend removing Offertz from your computer immediately. You should also make sure that your browser settings were not modified.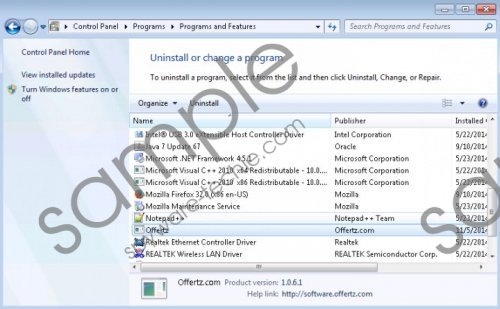 Offertz screenshot
Scroll down for full removal instructions
Some users may think that Offertz is related to browser hijackers because this program can also change your default homepage to search.findeer.com. It can actually seem that the homepage modification occurs without your permission, but in reality, even if Offertz gets downloaded from the official website it still comes with Findeer in its setup. Thus, users need to be careful when they install new applications on their computers, especially if they come from unfamiliar vendors. There is an option that allows you to avoid changing your default homepage, but if you skip that step, then the next time you open Google Chrome, Mozilla Firefox or Internet Explorer web browsers, it will automatically load search.findeer.com.
Technically, this search engine should help you come across the best shopping offers and what not, but it is not recommended to use. It is obvious that Offertz relies on third-party advertising networks, so it does not check whether the information it provides is safe or not. In other words, Offertz's privacy policy does not cover third-party content. What is more, if you did not plan on having this application on your computer, you have a very valid reason NOT to trust Offertz. Even if it is not a genuine computer infection, as an adware application it still poses specific security threats you should not ignore.
Therefore, remove Offertz from your computer right now. It is easy to uninstall it via Control Panel. If your default homepage was changed to search.findeer.com, you need to restore it by accessing browser settings manually. It is not a hard thing to do, and we provide the instructions below. The most important thing is to ensure that your computer is not exposed to similar adware applications in the future.
To protect yourself from similar intruders, you need to refrain from downloading applications from file sharing and torrent websites. Third-party websites often host installers that contain more than just one application that you want. Also, investing in a reliable antispyware program is a good idea. In fact, you should scan your PC with SpyHunter free scanner when you remove Offertz from the system because you need to be sure that all unwanted applications are gone.
Manual Offertz Removal
Windows 8
Move mouse cursor to the bottom right corner of the screen.
When Charm bar appears click Settings and go to Control Panel.
Open Uninstall a program and remove Offertz.
Windows Vista & Windows 7
Open Start menu and click Control panel.
Go to Uninstall a program and remove Offertz.
Windows XP
Click Start menu button and go to Control Panel.
Select Add or programs and uninstall Offertz.
Restore browser settings
Mozilla Firefox
Press Alt+T and go to Options.
Change your homepage under General tab and click OK.
Internet Explorer
Press Alt+T and select Internet options.
Change your homepage under General tab and press OK.
Google Chrome
Press Alt+F and click Settings.
Mark Open a specific page or set of pages under On Startup.
Click Set pages and change your startup page. Press OK.
In non-techie terms:
Offertz is an adware application intended for Italian computer users. Nevertheless, it spreads around the world, promising to improve your online shopping experience. It is very doubtful whether the program seriously helps you improve it. It would be for the best if you uninstall Offertz right now.