Do you know what OfferBox is?
OfferBox is an application that no longer functions properly. However, if you are displayed pop-up advertisements and you see that OfferBox is installed on your computer, it might be that some of the advertising network servers used by this application are still online. It is recommended to remove OfferBox from your computer, because adware applications may unwittingly expose you to various security threats. It may not be the main intention of an adware program, but such applications are very vulnerable to third party exploitation and OfferBox is of no exception.
OfferBox was first detected at the end of 2010, and it is known that the application was last updated in the beginning of 2012. Thus, this application has not been updated for more than 2 years now, and it allows us to infer that it is no longer fully functional. However, that does not mean that OfferBox cannot do anything. Even if its advertising servers are down, this application still takes up place in your system, and it may potentially slow down your Internet browser.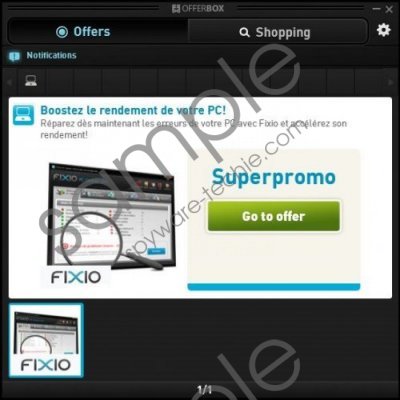 OfferBox screenshot
Scroll down for full removal instructions
You can access the main home page for OfferBox via offerbox.com. There you will find the main information presented in English, although the application itself is intended for computer users in Spain, Brazil, Italy and France. If you have a different IP address and try installing the application, OfferBox cancels the setup and you are told that you're the service is not available in your region.
In case the application gets installed on your computer, it says that it will "notify you with the best available offers, always connected to your interests". It means that the application should display pop-up ads whenever you access popular online shopping malls. However, take note of the "always connected to your interests" bit. It means that just like any other adware application OfferBox would employ cookies to collect data on what websites you frequent and what you search online for.
This is not something illegal, but whenever that is performed by an adware application, it raises some security concerns, because the likes of OfferBox cannot guarantee that the information collect will not be leaked or used for corrupted purposes. Luckily, most of the program's functions do not seem to be available anymore. For example, security experts have found out that offers and discounts via balloon tips on taskbar do not appear anymore. Also, OfferBox does not affect your default home page or search engine settings.
You can uninstall OfferBox via Control Panel, but you should also run a full system scan with SpyHunter free scanner, because there might be other potentially unwanted applications installed on your PC, and you should definitely remove them as well.
How to remove OfferBox
Windows 8
Slide mouse cursor to the bottom right of the desktop.
When Charm bar appears, click Settings and select Control Panel.
Open Uninstall a program and remove OfferBox.
Windows Vista & Windows 7
Open Start menu and go to Control Panel.
Select Uninstall a program and remove OfferBox.
Windows XP
Open Start menu and click Settings.
Go to Control Panel and double-click Add or remove programs.
Uninstall OfferBox.
In non-techie terms:
OfferBox is a potentially unwanted program that could be related to a variety of security risks. You should terminate OfferBox from your computer and then invest in a reliable antimalware tool that would help you ensure your system security.
Aliases: Offer Box.