Do you know what 'Notice From Microsoft Corporation' Ransomware is?
'Notice From Microsoft Corporation' Ransomware is a dangerous computer infection that wants users to think that their computers have been locked by the Microsoft Corporation. It goes without saying that the Microsoft Corporation cannot lock up your computer, and the program simply wants to extort as much money from you as possible. In this description, we will discuss this infection in greater detail, and we will also provide you with the manual removal instructions. If you think you cannot remove 'Notice From Microsoft Corporation' Ransomware on your own, you can always invest in a reliable antispyware application.
Probably, the most frustrating thing about ransomware applications is that even if you remove them, most of the time, it is not possible to reverse whatever the program has done to your computer and your personal data. In other words, ransomware comes in encrypting your files, and a public decryption tool is usually unavailable. Then users are forced to collect their files from various back-up devices or start everything from scratch. Luckily, that is not the case with 'Notice From Microsoft Corporation' Ransomware. Our researchers say that you can restore your files with a public decryption tool that you can easily find online, on various computer security-related websites.
With this worry behind our backs, we can take a closer look at the program itself. 'Notice From Microsoft Corporation' Ransomware employs the most common ransomware distribution method, which are spam email messages. To be more exact, the program is distributed via attachments that come with such emails. Users are often tricked into thinking that they must open those attachments as they carry important documents, online store invoices or financial reports. Therefore, before you open any attachment from unfamiliar third-party, it would be a good idea to scan the file with a computer security tool of your choice. Then you would definitely decrease the possibility of getting infected with malware.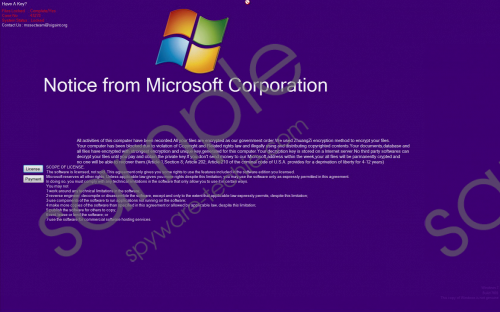 'Notice From Microsoft Corporation' Ransomware screenshot
Scroll down for full removal instructions
The people behind this infection fool users into thinking that they are about to open a PDF file. However, the moment you open the file, you actually launch an EXE file and 'Notice From Microsoft Corporation' Ransomware gets installed on your computer. Then the program drops copies of itself into the %Windir%\Cursors directory. The executable file should have a CashBillPending(Autosaved)1.pdf.exe or Microsfotsecteam.exe filenames. Of course, the directories affected by this ransomware may differ from one computer to another. In our cases, we have also found that the malware files were dropped into the %TEMP% directory. Also, it might be hard to point out the exact filenames used by this infection because they tend to generate them at random whenever a new computer is infected.
'Notice From Microsoft Corporation' Ransomware will also lock your screen upon the infection. It displays the ransom message on a blue background, which makes it look like the message was sent by the Microsoft Corporation. Once again, there is nothing in common between this infection and the software giant. However, the program tries to convince you that this is what really happened:
All activities of this computer have been recorded. All your files are encrypted as our government order. We used Zhuangzi encryption method to encrypt your files. Your computer has been clocked due to violation of Copyright and Related rights law and illegally using and distributing copyrighted contents. Your documents, database and all files have encrypted with strongest encryption and unique key, generated for this computer.
As you can see, the program tries to come off strong, but the thing is that the moment it asks you to pay the ransom fee, it should be more than obvious that the software is not official, and it is simply a criminal attack.
There is no need to pay the 0.5BTC (around $600USD) to restore your files because, as mentioned, you can do that with a publicly available decryption tool. Right now, the most important thing is to remove 'Notice From Microsoft Corporation' Ransomware from your system. The thing is, manual removal might be a little tedious because it would require you to restart your computer in Safe Mode with Networking, to bypass the screen lock. However, unless you do it, it may not be possible to remove the infection even with an automated tool. Hence, please follow the instructions below closely.
How to Remove 'Notice From Microsoft Corporation' Ransomware
Windows 10 & Windows 8.1 Safe Mode
Press the Windows key.
Enter Change advanced startup options in the search box and hit Enter.
Open the Recovery tab and click Restart Now under Advanced setup.
Go to Troubleshoot and open Advanced options.
Select Startup Settings and press Restart.
Press F5 to Enable Safe Mode with Networking.
Windows Vista & Windows 7 Safe Mode
Reboot your computer.
Press F8 several times while your system loads.
Choose Safe Mode with Networking on the Advanced Boot Options.
Press Enter.
Windows XP Safe Mode
Restart your computer and press F8 several times.
When Advanced Boot Options open, select Safe Mode with Networking.
Hit Enter.
Delete the Infection
Press Win+R and the Run prompt will open.
Access these directories:
%WinDir%\Cursors
%Temp%
Delete the following files from the directories above:
VshostD.exe
Vshostde.exe
Vshostdo.exe
VshostE.exe
Vshostpic.exe
Miscorsoftsecteam.exe
CashBillPending1.exe
Press Win+R and type regedit. Click OK.
Go to HKEY_LOCAL_MACHINE\SOFTWARE\Microsoft\Shared Tools\MSConfig\startupreg\shunimpl.dll.
Right-click the command value on the right with the data C:\Windows\Cursors\Microsoftsecteam.exe.
Delete the value. Go to HKEY_LOCAL_MACHINE\SOFTWARE\Wow6432Node\Microsoft\Windows\CurrentVersion\Run.
Right-click the shunimpl.dll value on the right and delete it.
Restart your computer, load it in Normal Mode.
Scan your system with the SpyHunter free scanner.
In non-techie terms:
'Notice From Microsoft Corporation' Ransomware might look like an extremely dangerous threat that can turn your world upside down, but this program is more annoying than dangerous. You can easily restore your encrypted files because the public decryption tool is already available. The manual removal might be a little bit tedious, but you can easily accomplish if you follow our instructions. Should you have any problems with the removal, please do not hesitate to leave us a comment.