Do you know what Note-Up is?
Note-Up may seem a nice little solution for business people who have many scheduled meetings and are afraid of forgetting some of them. This program is an event reminder that allows you to plan your meetings up to one year in the future. The application is quite easy to use, and it offers the possibility of sending reminders directly to your email. However, Note-Up is not a piece of software you should trust. This application is capable of downloading adware and even malware programs to your computer. Besides, it is usually spread by malicious software installers, and you might not even be aware of its presence. We classify this event reminder as a potentially unwanted program and speak for its removal.
During our research that we conducted in our internal laboratory, we have found that users often do not even notice how Note-Up enters their computers. This is because developers of this application put it in bundles with other freely distributed programs. Usually, people receive those programs when they launch file installers that are placed on p2p, torrent, and other file sharing websites. Those installers often masquerade as download buttons, and users are enticed by an offer to download new versions of media or flash players. However, those buttons turn out to be fake, and people get some suspicious applications on their systems.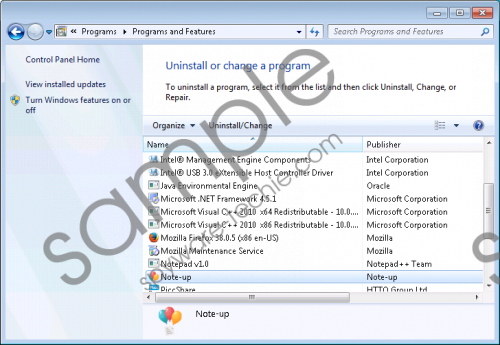 Note-Up screenshot
Scroll down for full removal instructions
So, OK, Note-Up slithered onto your system unnoticed, but maybe it is still worth keeping this application because of its useful features. The answer is a strict NO. The application can also download additional unreliable programs on your device. Some of them could even be of a malicious character. Getting your computer infected is not the price you should pay for using a free event reminder.
Besides, Note-Up also allows third parties to display advertisements. What's more, this program allows those third parties to use cookies and other data tracking technologies to gather information on your browsing habits. The program says that this could be done to deliver to you targeted advertisements. This would explain why this program is free, as it is supported by its business partners in exchange for the possibility of delivering ads to users of Note-Up. However, you cannot be sure that those parties have no unlawful intentions towards you or your information. The possibility that information about you could be used for scamming attempt or try to steal your identity is not very high, but better to eliminate it completely. And the best way you can do this is to get rid of the event reminder.
So, now is the right time to proceed towards the elimination of this potentially unwanted application. If you want to implement the process by yourself, then follow our short instructions. But we suggest that you use a trustworthy defensive program as you may be the unlucky owner of additional unwanted programs. Please remember that Note-Up is often installed together with harmful applications, and the latter are almost impossible to remove manually. You will need a tool such as SpyHunter that is capable of detecting and deleting all the invasive programs on your device.
How to delete Note-Up
Windows XP
Click the Start button.
Launch Control Panel.
Go to Add or Remove Programs and eliminate Note-Up.
Windows 7 or Windows Vista
Access the Start menu and open Control Panel.
Select Uninstall a program and remove Note-Up.
Windows 8, 8.1, or Windows 10
Press the Windows key + W.
Enter Control Panel and click on the icon.
Open Uninstall a program.
Remove Note-Up.
In non-techie terms:
Note-Up is an event reminder tool that some users may find useful. However, there are some suspicious things about this application. It hides its entry to your computer and thus is classified as a potentially unwanted program. In addition, it can install other unreliable programs on your device. Last but not least, this application does not prevent third parties from spying on you and gathering data on your Web browsing habits. We recommend that you remove Note-Up either manually or by using a legitimate antimalware scanner.