Do you know what Newht Ransomware is?
If you ever discover a program that goes by the name of Newht Ransomware be sure to take all action to avoid it. This is critical because it is a malware crafted by cyber crooks to make illegal profits. If you are not familiar with ransomware applications, you must know that they are designed to lock large amounts of data on the affected computer. It goes without saying that having a program that functions in such a manner could have devastating outcomes. To learn more about the inner workings of this malware make sure to read the rest of this article as we provide detailed information gathered by malware experts at Spyware-Techie.com. Alongside such information, we present a detailed removal guide that you should use to delete Newht Ransomware if you already have it active on your operating system.
As it turns out Newht Ransomware happens to be yet another file-encrypting application based on a Hidden-Tear project. There is a large number of other ransomware programs are based on this project; the list includes applications such as Mikoyan Ransomware, Kampret Ransomware, and Angleware Ransomware. Thus, it is not surprising that all of the mentioned programs function alike. Just like its counterparts, the dubious program in questions is based on the .NET 2.0 Framework, meaning that it is fully compatible with all active Windows' versions. Once it enters your PC, it immediately starts the encryption procedure. The malicious program in question uses a lock your files with a powerful cipher known as AES to eliminate any chances of a manual decryption. It attacks all sorts of different file types such as .doc, .txt, .psd, .pdf, .jpg, .png, .ppt, and many others. Upon further research, it has been discovered that this ransomware does not target files located in the %APPDATA% folder. That is likely because it stores its files there. Right after your data is no longer accessible, you will be presented with a suspicious warning message. Unlike other ransom notes that programs of this classification drop, this one does not provide any clear instructions on what you should do to regain access to your data. This could signify the fact that this ransomware program could be still in its testing phase. By now it should be quite obvious why we advise you to delete Newht Ransomware as soon as it is found up and running on your operating system. To do that in the easiest way possible be sure to follow the instructions that we provide below.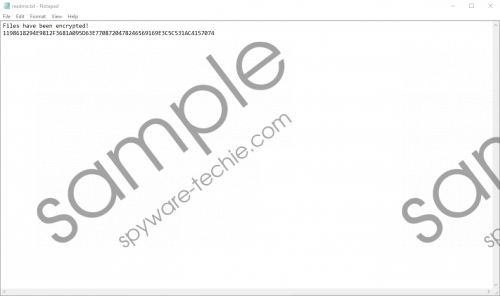 Newht Ransomware screenshot
Scroll down for full removal instructions
If you consider yourself to be a security-conscious user, you must take precautionary steps to improve your overall virtual security. Only by doing so you will be able to avoid programs such as Newht Ransomware. Firstly, we highly advise you to practice safe browsing habits. This means that you need to avoid all unauthorized third-party download websites as they are known to host setup files filled with questionable and even potentially malicious programs. You can significantly reduce the chances of coming across harmful installers by simply downloading all setup files from official developers' websites only. It is also important to refrain yourself from all e-mail attachments that come your way from suspicious third-parties. This is critical because in quite a few cases cyber crooks use spam e-mail campaigns to spread their devious applications. Furthermore, you need to always learn as much as you can about every program before even downloading it because cyber crooks are known to use misleading marketing techniques to trick users into downloading and installing their suspicious programs. Finally, and most importantly, be sure to install a professional antimalware tool if you do not have one already. Such a tool is an absolute necessity since it can detect and delete any virtual threat in an automatic manner.
Under no circumstances delay the removal of Newht Ransomware. Make sure to follow the instructions that we provide below with your utmost attention since a single mistake could have devastating outcomes. For example, there is a chance that leftovers of this malicious program might be used for its silent restoration procedure. In other situations, traces of Newht Ransomware might be enough for it to continue its harmful functionality. To be sure that everything associated to this malicious program has been deleted, you need to perform an analysis its leftovers once you are done with the instructions that we provide below.
How to remove Newht Ransomware from your PC
Open your File Explorer.
Go to C:\Users\(your username)\Download.
Right-click a malicious .exe file and select Delete. Keep in mind that the name of this file is random.
Go to C:\Users\User\AppData\Local\Temp.
Right-click a malicious .exe file and select Delete on your keyboard. Keep in mind that the name of this file is random.
Right-click your Recycle Bin and then select Empty Recycle Bin.
In non-techie terms:
If you find manual removal a bit too complicated, do not worry. Malware experts at Spyware-Techie.com have crafted an alternative removal guide. Simply follow the instructions that we present below and you will be able to delete Newht Ransomware automatically.