Do you know what Newcityinworld.ru is?
Newcityinworld.ru is a Russian website that might become visible on all your browsers one day. If it is opened for you automatically, it means that a browser hijacker has successfully entered your computer and has already applied changes on the system. Newcityinworld.ru differs from other ordinary browser hijackers in a sense that it creates a Scheduled Task with an Argument http://newcityinworld.ru/gvotesm to be able to open a web browser or just a new tab automatically every 23 minutes. We are sure you will find this really irritating sooner or later. Unfortunately, nothing can be done to change this, but it is, of course, possible to put an end to activities performed by this infection by removing it from the system. Since Newcityinworld.ru creates a Scheduled Task, its own Value in the system registry, and puts a shortcut Вoйти в Интeрнет.lnk on Desktop, it will definitely not be easy to get rid of it. No matter how hard it is to remove it, it is a must to delete this browser hijacker from the system because serious problems associated with its presence might arise.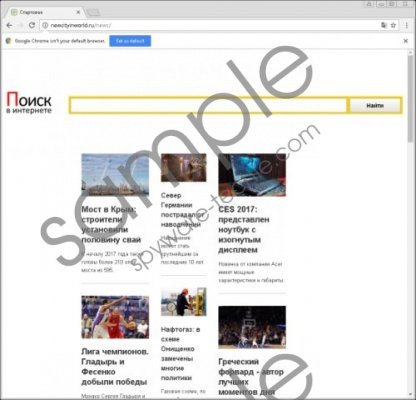 Newcityinworld.ru screenshot
Scroll down for full removal instructions
Newcityinworld.ru should be removed from browsers not only because it will be automatically opened from time to time, but also because this website is not reliable. Yes, it does not look dangerous at first glance, and it even has useful features (it enables users to search for the information and provides the latest news); however, as has been found by our specialists, untrustworthy links driving traffic to third-party websites might be shown to users by this website. In most cases, users see them when they enter a search query into the search box (it is located on the start page). Not all these links can be trusted even though they look harmless. In fact, some of them might even take users to bad websites containing untrustworthy software. To be frank, there is a risk of being redirected to a bad website after clicking on any of these news links on its main page too. Some users promise not to use the search box of Newcityinworld.ru and do not click ever again on any of the links that can be found on its main page after finding out what these third-party links are capable of; however, in the opinion of our research team, it is not a good solution to the problem because this website will still be set on browsers, meaning that it will still be active and might cause problems. On top of that, it will continue recording information about a user's activities on the web and their habits. Yes, it gathers data about users too.
Specialists say that Newcityinworld.ru is very similar to such websites as Funday24.ru, Time-to-read.ru, and Smartinf.ru. It not only acts in a similar way, but it is also distributed the same, i.e. it is spread in malicious software installers. It, of course, does not travel alone. It has been found that it might be spread together with Kometa browser, Torrent Search, Searchgo, and other untrustworthy applications. At the time of writing, Newcityinworld.ru is the most popular in Russia, Ukraine, and Armenia, but, of course, the situation might quickly change. As has already been mentioned, websites similar to Newcityinworld.ru that are called browser hijackers exist too, meaning that you might find the unwanted changes applied to your browsers again. In order to make sure that this does not happen, install a security application after deleting Newcityinworld.ru from the system.
To delete Newcityinworld.ru fully from browsers, you should, first of all, go to remove the Scheduled Task it creates in the Task Scheduler. In some cases, instead of this task, users can find a Value belonging to this browser hijacker in the Run registry key (HKEY_CURRENT_USER\Software\Microsoft\Windows\CurrentVersion\Run). It has to be deleted too. Of course, both the Scheduled Task and the Value might be present. Finally, the shortcut opening Newcityinworld.ru has to be eliminated from Desktop as well. The manual removal instructions placed below this article should help you to delete Newcityinworld.ru fully, but if you find it extremely difficult to erase it manually, you should let an automatic tool, e.g. SpyHunter do this job. It is a quicker and easier method if compared to the manual one.
Delete Newcityinworld.ru manually
Delete all components of a browser hijacker
Win+R.
Type Taskschd.msc and click OK.
Find a Scheduled Task with an Argument http://newcityinworld.ru/gvotesm, right-click on it, and delete it.
Close the Task Scheduler.
Press Win+R again and then type regedit in the box. Click OK.
Move to HKEY_CURRENT_USER\Software\Microsoft\Windows\CurrentVersion\Run.
Locate the random name Value (it might have a different link in Value data: "explorer \"http://iztiwe.ru/?utm_source=uoua03&utm_content=b409c088ec94b169a9cc060bac8f7a53&) belonging to this browser hijacker and delete it.
Remove Вoйти в Интeрнет.lnk from Desktop.
Go to reset browsers to their default settings.
How to reset browsers to their default settings
Internet Explorer
Open your browser and immediately go to open the Tools menu (Alt+T).
Click Internet Options and click on the Advanced tab to open it.
Click Reset.
Put a tick in the Delete personal settings box.
Click the Reset button.
Mozilla Firefox
Launch Mozilla Firefox.
Press Alt+H.
Click Troubleshooting information.
Find the Refresh Firefox button at the top of the page.
Click the Refresh Firefox button again when the pop-up window is opened for you.
Google Chrome
Double-click on the shortcut of your browser to launch it.
Click the button in the top-right corner to open the menu.
Click Settings.
Scroll down to the bottom of the page and click Show advanced settings.
Click Reset settings.
Click the Reset button.
In non-techie terms:
Not all the websites are decent even though they look harmless. It is especially applicable to those pages that are set on web browsers without a user's consent. Newcityinworld.ru is one of these legitimate-looking web pages that might cause trouble. According to specialists, this website might really be dangerous because it is capable of providing users with links promoting dubious websites. On top of that, even though it does not have a document informing users how it treats their privacy, it is very likely that it gathers data about users every day. Do not let dubious websites perform this activity if you do not wish your privacy to be violated.