Do you know what NetRadio is?
It is possible that you find NetRadio on your computer even if you do not remember downloading it. No, you do not have a memory loss; this application may enter your computer without your knowledge. That is only one of the few reasons due to which our researchers have categorized it as a PUP, i.e., a potentially unwanted program. It is also possible that you found this application on the web and decided to download it yourself. No matter how it got to your computer, it is important to understand the potential threats you might be exposed to by having this PUP on your system. That is how you can make the right decision about this software. Our verdict is that you should remove NetRadio if you want to avoid being presented with potentially harmful third-party content. But let us see why we believe so.
First of all, we do not think that too many users can find the official website netradioplayer.com via search engines since the name of this software is simply way too general. You will definitely find hundreds of other applications though, and maybe that is what you should do; find a decent and reliable one instead of NetRadio. What really makes this application questionable is that you can find it in infected free software bundles. A lot of users make a big mistake when they download a software package: They do not check what the package holds. In other words, they may install the whole content of the bundle without double-checking what it really contains. That is how, for example, this PUP can appear on your computer "out of the blue." But, if it comes this way, it means that more dangerous malware programs can be on-board as well. Therefore, after you delete NetRadio, you need to run a full system scan in order to see if there is any other infection to eliminate.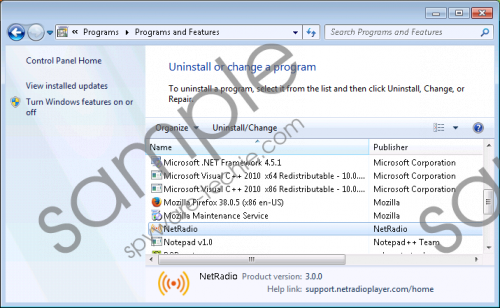 NetRadio screenshot
Scroll down for full removal instructions
According to our research team, NetRadio is very similar to GoGoGo Radio. This PUP also provides you with a search tool that enables you to reach thousands of web radios so that you can listen to them online. The application more or less delivers what it promises; however, you could definitely find faster ones. The real issue with this PUP is that it may show third party ads. The software uses a process called NetRadio.exe through which it can operate the ad display. However, it might be harmful for your system to click on any of these ads that you are exposed to through the third-party services. This is what the Privacy Policy reveals about these ads:
Advertisements and/or internet radio content may contain links to third party websites that are not under the control of NetRadioPlayer. NetRadioPlayer is not responsible for the content of any advertisements or related websites. NetRadioPlayer does not review, approve, monitor, endorse, warrant, or make any representations with respect to advertisements or related websites.
Since there is no guarantee, it may also mean that even cyber criminals might pose as third parties. Click on a corrupted ad could take you to unsafe websites and that is really not something you want to experience if you care about your virtual security or privacy. That is why it is better if you remove NetRadio from your system.
If you finally decide to make this PUP go away, you can use our instructions below. Do not forget that there may be more serious threats on your computer that need your immediate attention. In order to identify those, it is best to use a free online malware scanner, a reliable one, of course. If it finds issues, you can still download a trustworthy antimalware program and activate it to have full-time protection on your PC.
NetRadio Removal from Windows
Windows 8, Windows 8.1, and Windows 10
Press Win+I and access Control Panel.
Select Uninstall a program.
Click on the application and click Uninstall.
Windows Vista and Windows 7
Open the Start menu and choose Control Panel.
Click Uninstall a program.
Select the application and click Uninstall.
Windows XP
Press Win+R and type in Control Panel. Click OK.
Select Add or Remove Programs.
Click on the application and click Remove.
In non-techie terms:
NetRadio is a potentially unwanted program, which means that it is not a dangerous malware infection, but it may still show certain questionable or suspicious behaviors that might pose a threat to your operating system's security. It is also possible that this application sneaks onto your system without your knowledge via malicious software installers, so you may have malware infections on-board, too, to worry about. Therefore, we recommend that you remove NetRadio and all the related threats as well. The most effective way would be to install a malware removal tool that will automatically handle all your issues.