Do you know what Netflix Ransomware is?
Netflix Ransomware is a malicious application that disguises itself as a free Netflix account generator. In reality, it is far from being useful software. All it does is sneaks onto computers illegally with the intention of obtaining money from users. At the time of writing, it does not encrypt files like other ransomware infections do, but it might be updated in the near future and start acting in a different way. Either way, users who encounter any version of this threat should go to remove it fully from their computers ASAP. Netflix Ransomware drops its executable file to %APPDATA%\Microsoft\Windows\screentogif, places ransom.jpg in %USERPROFILE%, and puts open instructions.txt on Desktop after the successful infiltration, so its removal will definitely not be an easy task for ordinary users. Luckily, our team of experienced specialists is ready to help to take care of this dangerous computer infection. Read this article and then follow the manual removal guide they have prepared.
Once users get infected with Netflix Ransomware, they first see a window Form1 with a Netflix label and a button Generate Login!. Cyber criminals try to fool users into believing that they have a working Netflix account generator, so a small window named Account Info containing a username and password opens when a user clicks on a button to get login. Of course, the provided login details are fake and have nothing to do with Netflix. In the opinion of our researchers, the encryption of files should take place too after clicking on Generate Login!, but the current version of this infection does not do that. It only sets ransom.jpg as Desktop background and places open instructions.txt on Desktop. The first file contains the following message:
Data on your device has been locked

Follow the instructions to unlock your data

Open Instructions.txt on your Desktop
When users open the instructions.txt file, they find a ransom note claiming that all files have been encrypted with a "military-grade encryption algorithm (AES 256)" and the only way to get them back is to send $100 in Bitcoins. It is very likely that your all files are intact, so do not rush to pay the ransom. If it happens that it is really impossible to access any personal files, e.g. pictures, documents, music, and videos, you should carefully consider what to do. Of course, you can go to pay money to get the SE Decrypter, but, to be frank, there are no guarantees that you could download it and it will be effective. Therefore, specialists suggest trying to decrypt files without the special decryptor. What users can do if they discover that their files are locked is to delete Netflix Ransomware and then recover files from a backup located outside the computer. Free data recovery software might also be helpful, so it is worth trying out all reputable free recovery tools available on the web. If nothing helps, it might be a smart decision to wait until specialists develop a free decryption key.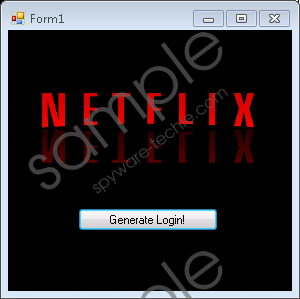 Netflix Ransomware screenshot
Scroll down for full removal instructions
Just like other threats placed under the category of ransomware, Netflix Ransomware might also be spread as a free Netflix generator in spam emails. It usually comes as an attachment, as research has shown, and appears on computers when users open that malicious email attachment. It is the most popular ransomware distribution method, but it is, definitely, not the only one used by cyber criminals. It has been revealed that users who encounter Netflix Ransomware could have downloaded it from some kind of bad website too. Of course, they intended to download the Netflix generator, not the malicious application. Since there are so many malicious programs spread as useful software these days, it might be quite hard to protect computers from dangers without help, so security specialists suggest installing a security application on the system. Malware will not cause any harm if security software is kept active 24/7/365.
If the manual removal method is chosen to delete Netflix Ransomware, each file this threat has dropped on the computer has to be found and removed separately. Consult instructions provided below this article if you do not know where to start. Alternatively, you can use an automatic scanner, e.g. SpyHunter to eliminate threats from your PC.
Delete Netflix Ransomware manually
Press Win+E to open the Windows Explorer.
Type %APPDATA%\Microsoft\Windows\screentogif in the URL bar at the top and press Enter.
Locate the malicious file netprotocol.exe (its size is 133 632 bytes) of the ransomware infection.
Delete it.
Delete the recently downloaded suspicious file (it might have a name Netflix generator).
Enter %USERPROFILE% in the address bar to open it.
Locate the ransom.jpg file and delete it.
Delete open instructions.txt from Desktop.
Empty the Recycle bin.
In non-techie terms:
If Netflix Ransomware has successfully entered the computer, it means that other untrustworthy programs could have sneaked onto your system too. They might already be performing various activities on your system without your knowledge. Therefore, specialists suggest that you go to scan your computer with an automatic scanner after the manual removal of Netflix Ransomware. An automatic tool will also make sure that you do not leave any traces of ransomware on your computer.