Do you know what Mywebsearch.com.au is?
If you reside in Australia, Mywebsearch.com.au is the hijacker that you need to beware of. This hijacker is concealed as a beneficial search provider, and you might be offered installing it along other programs. If you apply this search tool yourself, it is clear that you are not cautious enough. It takes a few minutes of research to realize that this search tool is useless and potentially dangerous, which are the main reasons for removing it from your operating system. Some users choose to ignore this hijacker/search tool; however, that is not a good idea, and you will learn why if you continue reading this report. If you do, you will also find how to delete Mywebsearch.com.au from your browsers quickly and efficiently.
Mywebsearch.com.au might have been created by the same people who created fetchsearch.com, asiasearch.co, and other well-known hijackers. These search tools look different, but they function in the same ways. For one, neither of these programs can offer you reliable search results, which is a big deal. If you want to browse the web efficiently, you have to remove Mywebsearch.com.au and apply a truly helpful, trustworthy search provider. If you browse the web using this hijacker, you will see links to the same websites over and over again, which, clearly, is not how reliable search tools work. It is most likely that the developer of this hijacker is interested in advertising above anything else, which is why the supposedly functional search tool works as an advertising tool more than anything else. Is this a good reason to delete Mywebsearch.com.au from your browsers? Of course it is, but you also need to keep in mind that this Excite Digital Media-powered search tool also works as a data collector (using cookies). If you do not want information about you tracked and possibly shared, delete this hijacker ASAP.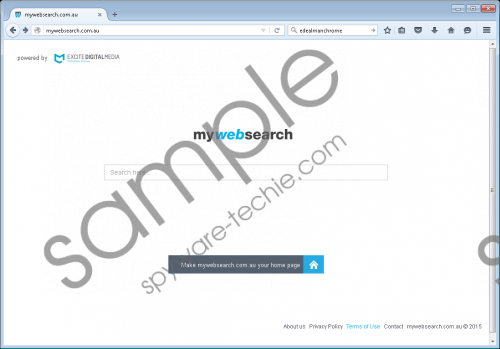 Mywebsearch.com.au screenshot
Scroll down for full removal instructions
Some malicious programs pretend to act as beneficial programs, and their activity might trick users into believing that. However, Mywebsearch.com.au is completely useless, and we are sure that you will realize this quickly enough. Since there is no reason to postpone the removal, we suggest deleting Mywebsearch.com.au from your browsers right now. Follow the guide below to remove the unwanted homepage on the infected browsers and install a malware scanner to check for leftovers. Do not panic if the scanner picks up on other threats because this hijacker usually travels in bundles. Simply install an automated malware removal tool to delete these threats from your operating system.
Delete Mywebsearch.com.au
Delete from Google Chrome
Simultaneously tap Alt+F.
Select Settings.
Move to On Startup.
Mark Open a specific page or set of pages.
Click Set pages.
Remove/change the set URL and click OK.
Restart the browser.
Delete from Mozilla Firefox
Simultaneously tap Alt+T.
Select Options.
In the menu on the left click General.
Move to the Home Page section.
Remove/change the URL.
Restart the browser.
Delete from Internet Explorer
Simultaneously tap Alt+T.
Select Internet options.
Click the General tab.
Move to the Home Page.
Remove/change the unwanted URL.
Restart the browser.
In non-techie terms:
Mywebsearch.com.au is not what you might initially think it is. Yes, this browser hijacker might look like a normal search tool, but it is still a browser hijacker, and a bad one at that. Instead of showing search results, it pretends to do that, and that is not difficult to realize. Fortunately, even if you are inexperienced, you should have no trouble removing Mywebsearch.com.au. Of course, you should treat the guide above as a starting point. Once you replace the unwanted homepage, scan your operating system to see if you need to delete leftovers or third-party malware.