Do you know what Mystart.myoivu.com is?
Mystart.myoivu.com seems to be just another search engine that just magically replaced your old browser homepage. But you actually get it by installing an application called OIVU. If you want to remove this search engine then you have to uninstall this application first. We do not recommend using this search engine, because it will collect information about your browsing preferences that will be used for advertising targeting and might also be sold to third parties. If you want to know more about this particular search engine, we invite you to read the full article. And, as always, we have included a removal guide just in case some of our readers do not know how all of the necessary steps.
This Search engine first appeared in March of 2015. So quite some time has passed since its initial release, but it is still alive and well. In any case, when we talk about Mystart.myoivu.com, OIVU is also bound to be mentioned. The two go hand in hand, because this application is the search engine's primary distributor. Both of these "products" have been created by Beijing Muxing Technology Co. Ltd. It is quite likely that Mystart.myoivu.com is exclusively bundled with OIVU. However, this application cannot be distributed as a standalone program, because no one would intentionally download and install it. Therefore, it is also quite likely that Mystart.myoivu.com and its little companion are bundled with other, more desirable applications and featured on free software distributing websites.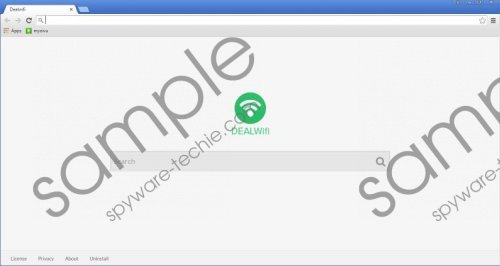 Mystart.myoivu.com screenshot
Scroll down for full removal instructions
Our researchers argue that you should remove Mystart.myoivu.com, because it will not improve your search results. In fact, all of the search queries are redirected to Google.com. So, what is the purpose of Mystart.myoivu.com? Apparently, this search engine has no purpose that could justify its existence. However, our greatest concerns about this search engine regard the user's privacy. According to the privacy policy "We collect other information when you utilize our service, including your computer's Internet Protocol (IP) address, operating system type or version, and other identifiers by using cookies." This is nothing new, various search engines and websites do that. They collect non-personally identifiable information to provide better services and increase their revenue in the process. However, the collected information is likely to be shared with various third parties that provide certain services on the company's behalf.
Another reason why you should remove Mystart.myoivu.com is that it may display third-party advertisements. Advertisements can be annoying and are often misleading. In some cases, the ads might promote unreliable and somewhat malicious software. Therefore, Beijing Muxing Technology claims not to be liable for any damages that might occur from using their products. So, would you trust a company like this with your information? If not, then you should get rid of its product and we will show you how to do it.
Clearly, this search engine is of no use to you, because it does not improve your browsing experience. It simply redirects your searches to Google.com and may spice them up with occasional advertisements, which you did not ask for. On top of that the ads may be unreliable, so you might want to reset your browser's homepage and uninstall OIVU. Removing Mystart.myoivu.com is a simple matter of changing the homepage address to your preferred one. But before you do that, we suggest deleting OIVU first.
Uninstall OIVU from Windows
Windows Vista and 7
Navigate the mouse to the lower left corner of the screen.
Open the Start menu and go to the Control Panel.
Click Uninstall a program and find OIVU.
Click the Uninstall button.
Windows 8 and 8.1
Navigate the mouse to the lower left corner of the screen.
Right-click on the Windows logo and click Programs and Features.
Find OIVU amongst other programs and click the Uninstall Button.
Windows XP
Navigate the mouse to the lower left corner of the screen.
Left-click on the Windows logo and go to the Control Panel.
Select Add or Remove Programs and find OIVU.
Click the Remove button.
Remove OIVU extension from Google Chrome
Open the browser.
Simultaneously tap Alt+F.
Select More Tools and click Extensions.
Find the extension and click Remove.
Reset the homepage in Google Chrome
Press Alt+F.
Find the On Startup list.
Click Set pages.
Change the homepage address and click OK.
In non-techie terms:
Mystart.myoivu.com is a useless search engine that will replace your old search engine with the help of a program called OIVU, which is distributed via free software bundles. Using this search engine is pointless because it redirects all searches to Google.com. In addition to that, it collects information about you and shares it with third parties. These third parties can be various advertisers who promote content of questionable reliability.