Do you know what Mysites123.com is?
If you ever come across a program called Mysites123.com make sure to never download or install it as it is yet another browser hijacker that according to our reports has been roaming the web lately. What is rather unfortunate is that a large number of Internet users already have this intrusive and potentially malicious browser hijacker as its developers use devious means of its distribution. The hijacker in question will only cause endless annoyance and frustration while you are surfing the web. What is even more alarming is that at times the dubious program could act in a rather malicious way; thus, by running it you could face devastating outcomes. Make sure to read the rest of this article to find out how this hijacker works and why its complete removal is imperative to your virtual security. Use the removal instructions that we provide below to delete Mysites123.com in the most efficient way.
Mysites123.com affects your online experience in various ways. Right after this invasive hijacker successfully enters your operating system it will trigger a few changes within your web browser's default settings. We also want to note that the invasive browser hijacker is fully compatible with major web browsers such as Google Chrome, Mozilla Firefox, and Internet Explorer, signifying that virtually any user could have this hijacker active on their PC. The suspicious tool changes your default homepage and search engine without any warning. Thus, if you noticed such behavior, it is a major indication that this questionable program is up and running on your PC. It goes without saying that such activity will interfere with your daily online activities as you will have no choice but to use the newly appointed search engine and homepage. In fact, such activity will make surfing the web the way you are used to virtually impossible unless you execute a complete removal of Mysites123.com. If you fail to do so, the changes made by this hijacker will continue to bother you.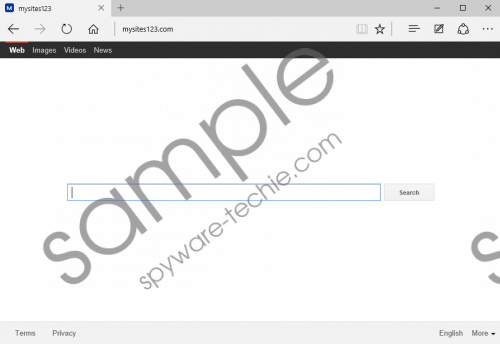 Mysites123.com screenshot
Scroll down for full removal instructions
What is even more dangerous about Mysites123.com is that at times it could turn out to be rather malicious. As it turns out at times, the hijacker in question could be used as a security breach. This means that other questionable programs could enter your operating system without a lot of troubles as the hijacker could be used as a backdoor into your PC. Therefore, it is important to check your operating system for other suspicious applications. All of this is a dangerous instance in which you do not want to find yourself in. Thus, it should be more than obvious why the removal of Mysites123.com should be your utmost priority.
Make sure to delete Mysites123.com in its entirety since otherwise the changes will remain. Follow the removal guide below carefully in order to delete this hijacker entirely. Even a single mistake could mean that the infectious program was not removed completely. Make sure to analyze your operating system for potential leftovers associated with Mysites123.com right after the manual removal is executed.
How to remove Mysites123.com from your web browser
Internet Explorer
Open your browser and tap Alt+T.
Select Internet Options.
Click the Advanced tab.
Click Reset.
Mark Delete personal settings and then click Reset again.
Mozilla Firefox
Launch your browser.
Simultaneously tap Alt+H.
Select Troubleshooting information and click Reset Firefox.
Clickthe Reset Firefox button again to confirm the process.
Google Chrome
Start your web browser and tap Alt+F.
Select Settings.
Scroll down and then click Show advanced settings.
Click Reset browser settings.
Clickthe Reset button.
How to remove Mysites123.com from your PC
Windows 10
Click the Search icon.
Type Control Panel.
Tap Enter on your keyboard.
Select Uninstall a program.
Click Mysites123.com and select Uninstall.
Windows Vista and Windows 7
Click the Windows button and select Control Panel.
Click the Uninstall a program option.
Select Mysites123.com and click Uninstall.
Windows XP
Click Start.
Select Control Panel.
Click Add or Remove Programs.
Uninstall the unwanted application.
Windows 8
Move the mouse cursor to the lower-left corner of the screen.
Right-click and then select Control Panel.
Click Uninstall a program.
Right-click Mysites123.com.
Select the Uninstall option.
In non-techie terms:
If you find manual removal too complicated, do not worry since our malware researchers have crafted an alternative removal guide. Make sure to carefully follow the instructions we provide below to delete Mysites123.com in an automatic way without encountering any major problems.