Do you know what Mysearchpage.net is?
Mysearchpage.net is a search provider that many users find installed onto Chrome, Internet Explorer, and Firefox browsers without permission. If your web browsers have been affected by the suspicious search tool as well, it is likely that you have become a victim of a browser hijacker. Needless to say, you cannot threat the suspicious search tool as an infection if you have downloaded it yourself; however, you definitely need to delete Mysearchpage.net if it has replaced the preferred home page tools without permission. The same removal tip applies to Bit-search.net, Start.mysearchs.com, and similar hijackers. Luckily, you will discover the hijacker as soon as you launch the affected browser, which means that the chances that you will remove the infection timely are high.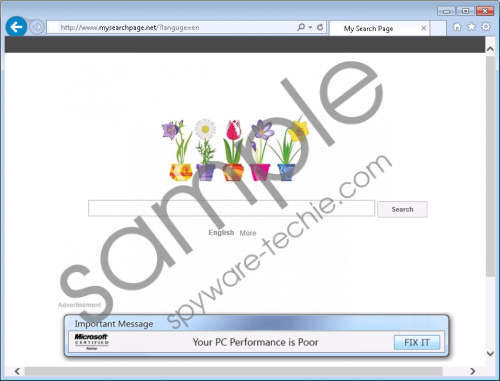 Mysearchpage.net screenshot
Scroll down for full removal instructions
If you have not removed Mysearchpage.net yet, it is because you are confused about the reliability of this search provider. The search tool does not look much different from any other popular search tool; however, it is not nearly as beneficial. First of all, Mysearchpage.net cannot scan the web for useful search results. Instead, it presents Bing search results, which is not malicious, but certainly odd. If you enjoy Bing search results, you should set bing.com as the home page instead of trusting Mysearchpage.net. Of course, this is not the main reason why you should remove the suspicious search tool. We believe it is a must to delete the hijacker because of the ads that it displays. These ads will show up on the home page right below the search box. Here are a few examples.
Important Message
Your PC Performance is Poor FIX IT

Please install video player to continue (recommended)
Do you think that you will install reliable video players, PC optimizations tools, malware removers, and other beneficial applications if you click on the ads presented via Mysearchpage.net? This is unlikely. As a matter of fact, it is more likely that you will initiate the installation of malicious or useless programs. Due to this, our researchers do not recommend interacting with these ads at all. If you are ready to remove Mysearchpage.net from the operating system, you can follow the removal guides below. These guides will help you delete undesirable programs and replace the home page of the affected browsers. Afterward, you must install automatic malware removal software or at least scan the PC with a malware scanner. It is likely that other dangerous programs are active on the operating system, and you must delete them as well.
Delete undesirable programs
Delete from Windows 8:
Right-click on the Metro UI screen, select All apps, and click Control Panel.
Go to Uninstall a program and right-click the app you wish to remove. Select Uninstall.
Delete from Windows Vista/Windows 7:
Click the Windows icon on the Taskbar, select Control Panel, and click Uninstall a program.
Right-click the application you wish to remove from the computer and select Uninstall.
Delete from Windows XP:
Move to the left of the Taskbar, click the Start button, and open the Control Panel.
Double-click Add or Remove Programs, select the undesirable applications, and click Remove.
Remove Mysearchpage.net
Remove from Mozilla Firefox:
Launch Firefox and simultaneously tap Alt+T to open the Tools menu.
Select Options to open a menu and click the General tab on the left.
Delete/change the URL of the undesirable Home Page and click OK.
Remove from Internet Explorer:
Launch Internet Explorer and simultaneously tap Alt+T to open the Tools menu.
Select Internet Options to open a new menu and click the General tab.
Delete/overwrite the URL of the undesirable Home Page and click OK.
Remove from Google Chrome:
Launch Google Chrome, simultaneously tap Alt+F, and select Settings.
Under On Startup select Open a specific page or set of pages, and click Set pages.
Delete/overwrite the URL of the undesirable search provider and click OK.
Under Appearance select Show Home button and click Change.
Delete/overwrite the URL of the undesirable search provider and click OK.
In non-techie terms:
You must remove Mysearchpage.net if it has hijacked the browsers without permission. Use the manual removal guides to delete the infection, and then employ automatic malware removal software to delete the remaining threats. This software will also ensure the removal of Mysearchpage.net leftovers, if they exist. The guides below can help you further.