Do you know what MyMovie Start is?
MyMovie Start is a browser extension developed by myAppline. It promises to allow users to access and watch interesting movies online for free, so a number of users go to install it from the Chrome Web Store (chrome.google.com/webstore/detail/mymovie-start/gnpjipjocompjdfhpdgckfnedpjbdofd) or its official website myappline.com. What users usually do not know about it is that it applies changes on Google Chrome when it is installed on the computer. It does not try to hide this fact – users who have read its description in the Chrome Web Store should be aware of that. Of course, not all the users read this information, especially if they download MyMovie Start from a third-party website or get it installed on their PCs against their will, so it does not surprise researchers that so many users make a decision to delete this browser extension. Users, of course, do not like the changes they see applied on their browsers, but it is not the only reason they decide to delete MyMovie Start. It also seems that a number of users do not find this browser extension beneficial.
No matter where users get MyMovie Start from, only one version of this browser extension exists, and it acts the same in all the cases. Actually, not all the researchers call MyMovie Start a browser extension. According to our malware analysts, this piece of software should be called a browser hijacker because it shows up on Google Chrome browsers and applies several important changes thus making the user's preferred URL gone. The website it sets replaces the homepage, New Tab URL, and Start Page, so it is impossible not to notice it. On its start page, it contains a search box, quick-access buttons that open popular pages like YouTube, Facebook, and Amazon, and a digital clock at the top. It cannot be called a bad page by any means, but you should still not keep it if you want to see another URL. According to our team of experienced specialists, it is also not a very good idea to keep the MyMovie Start extension installed because all your searches performed using the search box located on its page will be redirected to movix.searchalgo.com and then Yahoo! search results will be displayed. Because of the initial redirection to a dubious search engine, users see the modified search results. It might be dangerous to click on them because, as the previous experience of our researchers shows, they might redirect to websites which cannot be trusted. It seems that all these cons of MyMovie Start outweigh its all pros.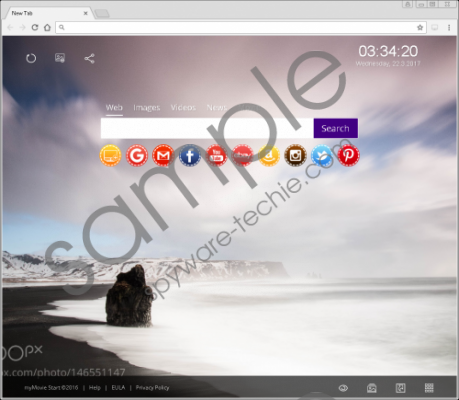 MyMovie Start screenshot
Scroll down for full removal instructions
It is not less important to analyze the dissemination of MyMovie Start. As has already been told in the 1st paragraph of this report, this Google Chrome browser extension has an official website, and, on top of that, it is promoted on a Google Chrome store. Unfortunately, this does not mean that all users willingly download this piece of software from the web and install it on their computers. According to our specialists, more users have no idea how this browser extension has ended up on their computers, which shows that it is spread using other methods too. Research has shown that malicious ads might distribute it too. One click on such an advertisement/pop-up and MyMovie Start is inside the system in no time.
Luckily, the removal of this undesirable browser hijacker should not be an extremely complicated process because the MyMovie Start extension can be easily deleted through the Add-ons Manager. Follow our step-by-step guide if you need some help with its deletion. An automatic tool will delete this undesirable extension for you too, and it would be a quicker method to make it gone, so decide how to erase it wisely.
Delete MyMovie Start manually
Open Google Chrome.
Locate the button in the top-right corner and click on it.
Find More tools and select it.
Click Extensions.
Find the undesirable extension on the list.
Select it and click the Trash button you will find next to it.
Click Remove if you are sure you want to get rid of it.
In non-techie terms:
Theoretically, a suspicious extension MyMovie Start which applies changes on Google Chrome could have been installed on your PC together with other undesirable applications if the reason you have it installed on your system is clicking on a malicious advertisement or downloading a bundle of untrustworthy software from a third-party page. Luckily for you, there is a way to find out whether or not other undesirable applications are inside your system within a few seconds – perform a system scan with a trustworthy scanner. Do this if you have erased the undesirable Google Chrome extension manually.