Do you know what MyBeeSearch.com is?
MyBeeSearch.com is a search engine that you might encounter one day. It is very likely that you will notice it after you install a browser plugin; however, you might simply experience unauthorized redirections to this search engine too. A more thorough research has shown that MyBeeSearch.com might be closely associated with Dealio.com, Dealio Toolbar, and Spigot Toolbar because these products are mentioned in its EULA. Of course, there is a possibility that only the publisher of MyBeeSearch.com is associated with those products, but these are only speculations. The most important thing now is to erase MyBeeSearch.com from browsers and set a more trustworthy search engine. If you ignore this suggestion and keep using MyBeeSearch.com, you will cause harm to your system eventually. If you need some help with the deletion process, read through the article prepared by our team of experienced specialists.
MyBeeSearch.com does not have its own search engine, so if you enter a keyword into the search box, it will provide you Yahoo! search results. As it is written in the End User License Agreement (EULA), MyBeeSearch.com might also use Baidu, Yandex, eBay, and Amazon search results. Even though these pages are considered to be trustworthy, specialists have observed that they might provide users with unreliable third-party ads and links too. Yes, you will be provided with legitimate search results too, but we still cannot forget the fact they will be modified. It is really dangerous to click on such search results because you might be taken to an untrustworthy website and thus encounter malicious software there. Malware will not ask your permission to enter your system, so you might infect the system really quickly.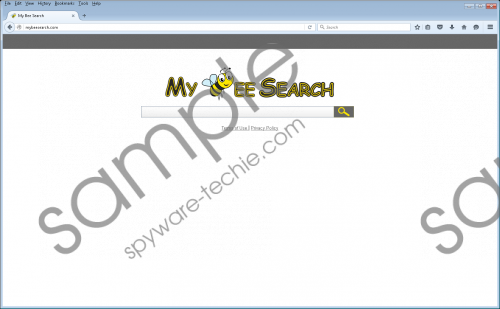 MyBeeSearch.com screenshot
Scroll down for full removal instructions
It has also been observed that the information about users who keep MyBeeSearch.com is being tracked day after day. It has been observed that this search engine is primarily interested in:
Search terms users enter into search boxes
IP address
User's country or OS language setting
Links or advertisements they have clicked on
Do not forget that web pages you will be taken to after clicking on any of those sponsored links or ads MyBeeSearch.com will show you might also collect information. Even though MyBeeSearch.com is not interested in personal information, we cannot guarantee that other web pages are not going to record those details too. Therefore, you have to be really cautious all the time. Do not forget that you will not even know that your privacy is being recorded.
If you have already opened your Mozilla Firefox or Internet Explorer and see that MyBeeSearch.com is there, there is a very huge possibility that other undesirable programs are installed on your PC too because this search engine is often spread in software bundles. Research carried out by our experts has shown that the installer of MyBeeSearch.com tends to connect to these IP addresses: 174.36.215.20 and 205.186.187.146. This indicates that MyBeeSearch.com can use the Internet connection whenever it wants to, i.e. it is capable of connecting to the web without permission. On top of that, this shows that it comes in a bundle with Mybrowserbar.com and UltimatumZ. We cannot say that the aforementioned software is dangerous and harmful, but you still have to be cautious with it if you detect it. In fact, it would be best to remove it too because we cannot be sure that it has not been modified by cyber criminals.
If you do not want to see the presence of MyBeeSearch.com anymore, you must remove it from browsers. In some cases, users find the uninstall entry in Control Panel and can erase this search engine as an ordinary program. If this search engine does not have an uninstall entry, you need to reset your browsers one by one. Below provided instructions will help you to do that. Do not forget to take care of other existing threats too.
Delete MyBeeSearch.com
Internet Explorer
Open your browser.
Tap Alt+T.
Select Internet Options.
Click on the Advanced tab.
Click Reset.
Mark the Delete personal settings box.
Click Reset.
Mozilla Firefox
Open your browser.
Tap Alt+H.
Select Troubleshooting information.
Click Refresh Firefox.
Click on the Refresh Firefox button once again.
In non-techie terms:
If you have followed the removal steps as indicated, but still see the presence of MyBeeSearch.com on your browsers, you should definitely go for the automatic removal of this engine. In other words, you need to download a reputable tool, e.g. SpyHunter and then scan your system. It will also take care of other existing infections. In other words, you will not need to delete them manually one by one.