Do you know what MyAppsCloud is?
MyAppsCloud is an unreliable and useless application that our research team has categorized as a PUP, i.e., a potentially unwanted program. This PUP does not seem to function perfectly and it also behaves somewhat suspiciously. If this program is present on your computer, your system security might be at risk. It is also possible that MyAppsCloud had company when it entered your computer and it brought a bunch of malware infections on-board. There are too many issues with regard to this PUP and that is why we advise you to remove MyAppsCloud from your computer. Please read our full report to hear our arguments before you make your verdict.
The first issue about this PUP comes up when you want to download it from its quasi-official website at myappscloud.com. Well, to be quite frank, that website also deserves some words. As a matter of fact, it does not even look like a professional site promoting a useful application. It looks more like a useless, shady free apps hosting site. Once the page gets loaded, your browser window gets filled with third-party advertisements and a few empty panels that seem to be out of service. These are definitely not the signs of a reliable application. But the bigger problem arises when you actually find and press the Download Now button. Antimalware applications may detect the .exe file as a Trojan malware infection. That can also be a red flag situation when downloading new free software. An up-to-date security tool can save you from such attacks. If you manage to download and install MyAppsCloud somehow, you can still remove it before it might expose you to some unsafe third-party content.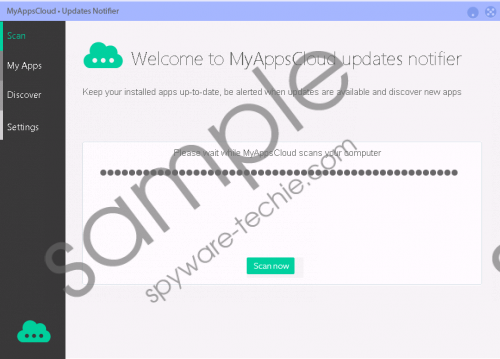 MyAppsCloud screenshot
Scroll down for full removal instructions
Of course, it is not the only way this useless app is distributed. MyAppsCloud uses a questionable method called software bundling. That is how it is possible that this PUP enters your system along with malware infections. If you have this application on your system, there is a good chance that you have other security issues as well, including adware programs and browser hijackers. These infections are easy to spot. You cannot actually miss them when you launch your browser and go surfing. Either your home page will be changed or you will see a flow of potentially dangerous third-party advertisements on your screen, or both. Even if you have not noticed such things, it is advisable to delete MyAppsCloud and scan your system thoroughly with a reliable online malware scanner to be on the safe side.
Apart from offering to warn you about updates to all your applications, which this PUP could not really perform fully while being tested in our internal lab, MyAppsCloud may also start displaying third-party ads that might be potentially unsafe. Here is what the Privacy Policy has to tell you about this:
The Software may have third party services implemented in it for displaying advertisements and for providing with analytical services... Third party sites may contain information or service that is illegal, unreasonable or that some people may find inappropriate or offensive.
We hope that you see now that with this PUP on-board, you might be introduced to certain system security issues. Removing MyAppsCloud can help you avoid these scenarios.
If you have made up your mind, all you need to do is follow our instructions below and you will get rid of MyAppsCloud in a minute; well, maybe not entirely. The truth is that some components might still stay on your system. Therefore, we suggest that you download and install a trustworthy malware remover, such as SpyHunter. With such a security tool you can automatically detect and eliminate all your system issues. If you do not want to spend time to tackle malware infections in the future, this is the best you can do to protect your PC.
Remove MyAppsCloud from Windows
Windows 8/Windows 8.1
Tap Win+R and type in Control Panel. Press OK.
Access Uninstall a program.
Click on the unwanted application and click Uninstall.
Windows Vista/Windows 7
Click on the Windows button on the Taskbar and select Control Panel.
Click Uninstall a program.
Select the unwanted application and click Uninstall.
Windows XP
Open the Start menu and go to Control Panel.
Select Add or Remove Programs.
Click on the unwanted application and click Remove.
In non-techie terms:
MyAppsCloud is a potentially unwanted program that can potentially harm your system, too. Having it on your computer could possibly expose it to unreliable third-party content or even malware infections. Deleting MyAppsCloud is necessary if you want to be sure that your system is safe. We recommend the use of a reliable antimalware program to take care of all known infections on-board.