Do you know what Muzik Trak is?
Muzik Trak is a PUP, or potentially unwanted program, that Chrome users can download from the official website, muziktrak.thewhizproducts.com, or the Chrome web store. On this app store, users are introduced to the PUP as a search tool that has over 37 thousand users, and thewhizproducts.com is listed as the official source. If you click the link provided, you will be redirected to a "404 Not Found" page; however, muziktrak.thewhizproducts.com does work. Here, the suspicious PUP is promoted as a tool that can help you access trending playlists, songs, and artists. If you install the program, you will be provided with links to Soundcloud, Pandora, Spotify, and several other sites alike. Needless to say, you can access these sites without installing a suspicious program, but that is not the main reason we suggest removing Muzik Trak.
After testing this potentially unwanted program in our internal lab, we have found that Muzik Trak is very similar to Seen On Screen and Muzik Fury, both of which are classified as PUPs as well. All of these programs are spread across the world, but it was found that they are more active in certain countries. For example, the suspicious PUP we are currently analyzing is primarily spread in India with over 21% of all its users in this country. Although they might be spread in different countries, all of these PUPs were found to spread via suspicious pop-ups. As mentioned previously, official download sites and the Chrome web store are set up to promote these PUPs, but you might install them by interacting with suspicious pop-ups as well. It is most likely that you will encounter these pop-ups when visiting unreliable sites; however, they might also show up if adware is present on your PC already.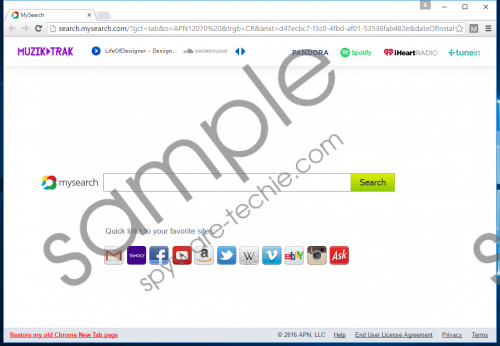 Muzik Trak screenshot
Scroll down for full removal instructions
The main thing that Muzik Trak and its clones have in common is the search tool that appears to be controlled by APN, LLC. This search tool is search.mysearch.com, and it will take over your New Tab and default search engine as soon as you acquire the PUP. This search tool is represented with links to popular websites, such as Gmail, Facebook, and Vimeo, which makes it more appealing. Although these links appear to be legitimate, we do not advise trusting the search tool because it might show unreliable results. According to our researchers, modified search results could be shown, and you want to stay away from those. It is possible that misleading ads or sponsored links will be provided to you instead of authentic, beneficial information. As you might realize already, this is a security backdoor that could be used to expose you to content that you would not normally encounter. That includes misleading shopping offers and even the installers of other suspicious programs.
The removal of Muzik Trak can be handled by even least experienced users, as it is not at all complicated. This is a Chrome extension that you can easily eliminate from your Chrome browser with a click of a button. If you are curious as to how this program is operated from your computer, you can check the instructions below to learn how to delete this PUP one component at a time. If you follow this guide, you will learn the location of this strange program on your PC, and this experience might help you fight unwanted programs in the future. Of course, you do not need to proceed manually if you do not want to. In fact, it is much better to install an automated remover to have your PC cleaned from malware. Considering that the PUP could be one of the many suspicious programs on your computer, using an authentic anti-malware tool is a smart move.
Remove Muzik Trak
Launch the Explorer window by tapping Win+E keys.
Type %UserProfile%\Local Settings\Application Data\Google\Chrome\User Data into the address bar.
Delete the Preferences and Secure Preferences files (or open then with Notepad and delete the dldpaeamibmikhbfdnooilhhokbagole strings within them).
Delete the chrome-extension_dldpaeamibmikhbfdnooilhhokbagole_0.localstorage and chrome-extension_dldpaeamibmikhbfdnooilhhokbagole_0.localstorage-journal files.
Now open the Default/Profile name folder and move to the Extensions folder.
Right-click and Delete the Muzik Trak folder called dldpaeamibmikhbfdnooilhhokbagole.
In non-techie terms:
Do not mistake Muzik Trak for a useful tool. Although this program can help you access different online music sites, it was created to promote third-party content – which it can do by showing sponsored search results via search.mysearch.com – and collect information about you. In some cases, computer users might find that this strange PUP is active on their PCs along with other threats or unreliable programs, which is why we advise using automated malware removal software. If you have decided to eliminate this PUP manually, follow the guide above.