Do you know what MultiSurveys?
MultiSurveys is advertised as an application that will help you conduct various surveys. However, after testing it, our researchers have classified it as adware and advise that you remove it as soon as the opportunity arises. It is an unwelcome application because all it can do is subject you to annoying advertisements that might even compromise your system's security. The origins of the advertisements are unknown as they come from various shady advertising partners. In addition to displaying advertisements, this program will also gather certain information about you that is used for marketing and advertising purposes. So, in short, this program will only hinder your browsing experience and do not expect it to help you with conducting surveys because it is just a false claim.
We have all come to know ad-supported applications as software that displays ads to cover development costs so that you could enjoy it free of charge. However, MultiSurveys is on a whole different level. It does not have anything to offer, and its developers claim that it will help you conduct surveys is an outright lie. Although this program promotes a certain survey-making website but is it worth keeping this application installed? Besides that website is broken and you cannot use it for conducting any surveys.
Nevertheless, MultiSurveys's ad-displaying function could not work any better than it already does. While installing this program, the installer modifies the settings of Internet Explorer, thus, it bends this browser to its will and forces it to display advertisements. However, it will not just inject some annoying coupons and banners. Our researchers say that this adware will force Internet Explorer to open at random and load one of its several promoted websites. However, our researchers say that it loads Multisurveys.com/redir.php and this site redirects to other promoted sites. In addition, to content promoted via Internet Explorer, you will find MultiSurveys's window dedicated to promoting all kinds of shady websites, such as Lamphouseoffers.com/pubs/index.php, Mindspay.com, and Regflow.com. Note that this program's ads may be region-specific so you might be subjected to other content if you live outside of the US.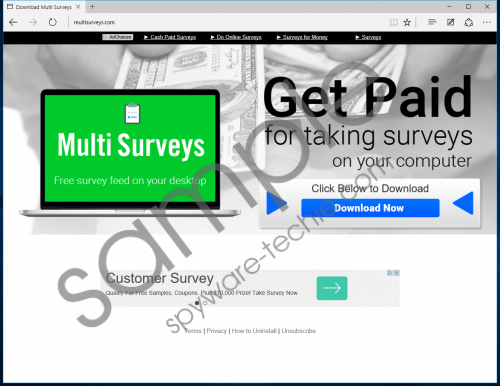 MultiSurveys screenshot
Scroll down for full removal instructions
Therefore, our researchers say that it is entirely possible that this adware will promote malicious applications and scam websites. Malicious applications include spyware which will spy on you and try to get personal information such as your logins and passwords, ransomware that will lock your computer and, or encrypt personal files and demand that you pay a ransom, and so on. Like spyware, scam websites will also try to get personal information. Take note that MultiSurveys will also collect information about you but it is limited to non-personally identifiable information, such as your IP address, device type, browser type, approximate location, and so on. So it is not as dangerous as malware that it can promote.
This adware comes from the same secretive developer that also released BabyMegs, BeautyMost, and ShiftVideos. It has a dedicated distribution website at Multisurveys.com, but more often than not, this site does not work. Nevertheless, it hosts MultiSurveys's InstallCore downloader. Now, InstallCore downloaders are prone to contain additional malware, so your computer might get in infected with more than just this adware. However, the additional malware depends on the region you are in and it changes from time to time. Also, our researchers have found that this adware may be promoted via adware and search results or browser hijackers.
We hope that the information we have provided has proven useful to you. Now, if you have this program, and you want to get rid of it, but do not know how then please follow the instructions we have provided below. Testing has shown that this program does not leave ant junk files, so removing it via Control Panel should be enough. Keep in mind that keeping this program might result in undesirable consequences, so the sooner you take action against it, the better.
How to remove the unwanted program
Windows 8/8.1/10
Press Windows Key+R.
Type Control Panel in the Run command Prompt and Click OK.
Click Uninstall a program.
Locate the adware.
Right-click on it and click Uninstall.
Windows 7 and Vista
Click Start.
Choose Control Panel.
Click Uninstall a program.
Locate the application.
Click the Uninstall button.
Windows XP
Open the Start menu.
Click Control Panel.
Select Add or Remove Programs.
Locate the adware.
Click Remove.
In non-techie terms:
MultiSurveys is an adware-type program that poses as a useful tool for making online surveys. Its clandestine developers have opted not to include their name in this program because it is prone to advertise malicious websites and software. It can also gather non-personally identifiable information about you. Given that this program is offers nothing of value and can only compromise your system's security we advise that you remove it using our guide or our recommended tool.