Do you know what Mstechsupport.info is?
Many computer users think that Mstechsupport.info is a trustworthy domain that provides a useful service. Unfortunately, we do not recommend trusting this service or calling the given number, even if the information provided on this website claims that specialists will help you boost your PC's performance, remove annoying pop-ups from the screen, and even reset a forgotten password. In fact, Mstechsupport.info is a domain run by cyber criminals, so it definitely should not be trusted. Research carried out by our security experts has shown that Mstechsupport.info domain might be associated with malicious applications. If you see pop-ups that advertise Mstechsupport.info on your screen, there is no doubt that they have managed to enter your system as well. You have to remove Mstechsupport.info-related programs as soon as possible because they are 100% unreliable.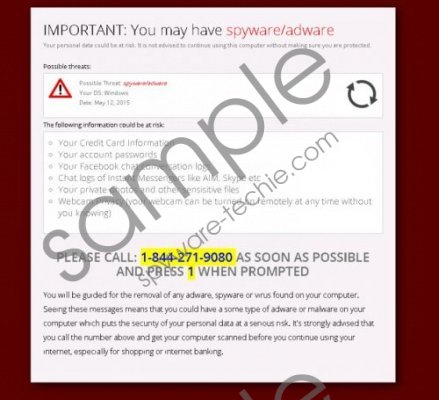 Mstechsupport.info screenshot
Scroll down for full removal instructions
Mstechsupport.info is an untrustworthy domain, so, if you notice the warning message with the Mstechsupport.info address in the URL bar, you should simply close it and do not believe any word written on it. As this message seeks to lure computer users into calling the given number, it is not surprising that it will claim that "you may have spyware/adware" and that your personal information is at risk. Specialists tell us that you will not see the message promoting Mstechsupport.info on your screen anymore if you remove the program that causes it. However, you will have to detect it first. Unfortunately, it is not so easy to do that.
If you want to protect your system from malicious applications, you should surf the Internet more carefully and, of course, install a trustworthy antimalware tool on the system. If you decide not to do that, you should know that there is a huge risk that other malicious programs will enter your system and start performing various undesirable activities. We think that you want to use your computer freely, so we highly recommend that you do everything that it takes to prevent malware from entering your system.
The easiest way to remove all the existing threats from your system is to scan it with a trustworthy tool, such as SpyHunter. If you do that, Mstechsupport.info-related warnings will disappear from your screen. In fact, you will first have to close the message claiming that your PC is infected in order to download a trustworthy tool. You will find the instructions that will explain you how to kill the browser process and close the message below this article.
Kill the browser process
Click on the Task Bar.
Open the Task Manager and select the Processes tab.
Right-click on the browser process and click End Process.
How to delete the unwanted program
Windows XP
Click the Start button.
Select Control Panel.
Click Add or Remove Programs.
Select the program and click Remove.
Windows 7 and Vista
Open the Start menu.
Select Control Panel.
Click Uninstall a program.
Right-click on the suspicious application.
Click Uninstall.
Windows 8
Tap the Windows key + R.
Type in control panel in the box and click OK.
Click Uninstall a program.
Select the suspicious software.
Click Uninstall.
In non-techie terms:
If you have removed the program and do not see Mstechsupport.info pop-ups anymore, you should still scan your system with a trustworthy antimalware tool, such as SpyHunter. It is necessary to do that in order to check whether other untrustworthy programs are installed on your system.