Do you know what MP3 Spun is?
MP3 Spun is an adware application, and it means that it enters target systems to make easy money. Adware programs do not steal your login information or credit card details, but they are annoying enough to terminate them at once. Not to mention that such programs often pretend they can do something they cannot. For instance, MP3 Spun says that it can help you download and stream music for free. Needless to say, these promises are fake, and you will do yourself a favor if you remove MP3 Spun from your system at once.
While you are at it, you should also check if you have any other unwanted applications installed on your system. The point is that such programs often travel in groups, and they use this tactic to get into computer unnoticed. Although such practice is no illegal, and the chances are that you have installed all the unwanted freeware willingly. If you downloaded any application recently, it might have been bundled with additional programs, and this adware app might have slipped in, too. It means that it is possible to avoid getting such programs as long as you are attentive during freeware installation.
Another way to get MP3 Spun is to download it from its official website. The site is located at mp3spun.com. Usually, adware programs have dysfunctional websites that work as a cover for their shady activities. A working download button tends to be absent. Yet, that is not the case with this application because it comes with a working download button and even the Privacy Policy. Reading the privacy policy, we can understand that this application is very far from a decent streaming tool.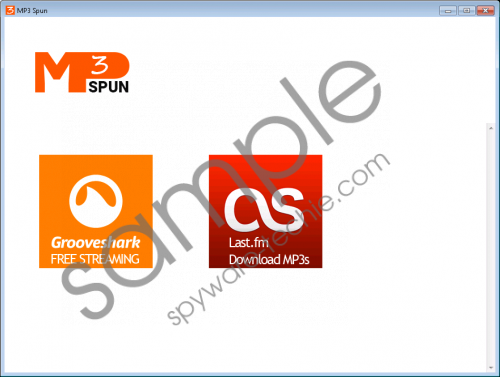 MP3 Spun screenshot
Scroll down for full removal instructions
Most of its activities are focused on tracking its users and collecting information on what websites they visit and what keywords they enter in search engines. As mentioned, MP3 Spun cannot collect personal data, but this program might be the reason you see so many annoying pop-ups when you browse the web. This application provides advertising space for third-party partners, and you might constantly be assaulted by commercial ads that are, in one way or the other, related to your likes and preferences.
You may think that this is more annoying than dangerous, but we have to remember that a serious problem may start from something trivial. Therefore, you should never ignore annoying pop-ups especially if it seems like there is no end to them.
MP3 Spun itself belongs to an ever-growing adware family that we have covered before. The same group includes a number of applications that we discussed on our website. For example, Rainy Day Travel, SlateBeauty, DatingDone, CareerPronto, and others. It is very interesting to note that most of these programs are practically identical, and they share similar infection symptoms. For instance, right after the installation, MP3 Spun will open a window with the Dating Smith image on top of it. That is something that all the adware programs from this family do. They may also display more pop-ups with other legitimate dating sites, and it is clear that online music streaming barely has anything to do with dating sites.
From everything, you can see that the only reason this program enters your computer is money. Although it does not steal anything directly, you do not get anything in return for clicking the ads. Each time you click an ad, you help the people behind MP3 Spun earn money.
The sooner you remove MP3 Spun from your computer, the sooner you will be able to breathe a sigh of relief. Please follow the instructions below to terminate the application, and then invest in a legitimate antispyware tool to protect your PC from similar intruders. If you are in doubt, scan your PC right now with the SpyHunter free scanner. It will help you determine the actual status of your system's security.
If you have any questions how to protect your computer or how to deal with unwanted software, please leave us a comment. We are always ready to assist you.
How to Delete MP3 Spun
Windows 10 & Windows 8.1
Press Win+R and type Control Panel into the Open box.
Press Enter and go to Uninstall a program.
Highlight the application and click Uninstall.
Windows Vista & Windows 7
Open the Start menu and click Control Panel.
Select Uninstall a program and remove the adware application.
Windows XP
Click the Start button and go to Control Panel.
Access Add or remove programs and uninstall the application.
In non-techie terms:
You may not know that you have MP3 Spun on your PC yet, but this program is the one that generates all these annoying ads. Please remove it from your computer and then get yourself a reliable antispyware program that would look out for similar intruders in the future. Adware programs may not be immediate system security threats, but they should not be taken lightly. Danger might be lurking behind every corner.