Do you know what MovieDea is?
MovieDea is an adware application that is promoted as useful browser extension for movie search. If you go to moviedea.com, you will be greeted with a list of movies and a short explanation of what MovieDea does. No matter how beneficial this application might seem, it is for the best to remove MovieDea from the system right now. While you are at it, do not forget to check your system for other potential threats because adware programs seldom travel on their own. You need to do everything it takes to safeguard your system against potential threats because nowadays malware mostly targets your money, so if you want to protect your financial stability, you have to start your computer security.
The official website for MovieDea claims that with this software you can "search for movies, watch trailers and much more FOR FREE." It goes on to say that with MovieDea "you can enjoy watching upcoming movie trailers, have full movie information, receive updates and much more." If you are an avid movie watcher, this application may seem like a useful tool that can improve your hobby life. Nevertheless, apart from providing you with its main function, MovieDea is also known to collect information on your web browsing habits and display commercial ads. Thus, it is of no surprise that the program is categorized as adware.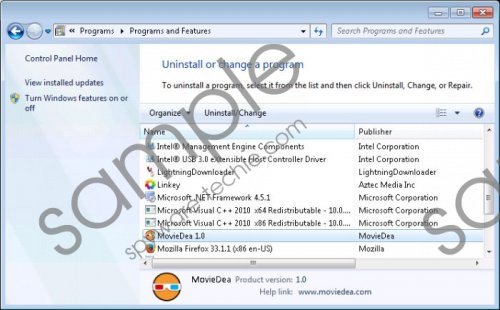 MovieDea screenshot
Scroll down for full removal instructions
What's more, users usually are not aware that they download and install unwanted applications on their computers. Although MovieDea has an official homepage, it is far more likely that this program comes bundled with freeware. Users download freeware from file sharing and torrent websites. Sometimes MovieDea might be included in the setup of some program that you have downloaded from a third-party source. Then, the adware might also be hiding behind a fake update pop-up that you encounter on adware-related websites. You should also be wary of fake download buttons that are easy to find on file sharing websites. They are usually really big and flashy, so users quite often click them accidentally.
As far as its behavior is concerned, MovieDea is very similar to MovieWizard, Lights Off, and other applications that pretend they can improve your web video watching experience. However, the main reason it enters your computer is money. MovieDea has been created to display advertisements that contain third-party content. These advertisements could contain corrupted links that might redirect unsuspecting users to malware-related websites.
It is clear that MovieDea is not a direct computer security threat, but you should not take your chances. Uninstall MovieDea immediately and then please acquire a legitimate computer security program that will scan your PC for you and, if there are any other threats present, the security program of your choice will delete all these unwanted programs for you automatically. You simply need to make sure that your computer security tool is up-to-date and has all the latest definitions of potential security threats.
Apart from investing in a legitimate security application, you should also think about employing safe web browsing habits, because adware applications often enter target systems because users are not aware of all the potential security threats they encounter on the Internet. If you need any further explanation on how to deal with MovieDea, please leave us a comment, and we will reply as soon as possible.
How to Delete MovieDea
Windows 8 & Windows 8.1
Slide the mouse cursor to the bottom right of your desktop.
Click Settings on the Charm bar and go to Control Panel.
Open Uninstall a program and remove MovieDea.
Windows Vista & Windows 7
Click the Start menu and go to Control Panel.
Select Uninstall a program and remove MovieDea.
Windows XP
Open the Start menu and navigate to Control Panel.
Access Add or remove programs and uninstall MovieDea.
In non-techie terms:
MovieDea is an unwanted application that slows down your browser and spams you with annoying pop-ups. The application will try to convince you that you simply must keep it on your computer, but you should know better than that. Remove MovieDea immediately and make sure no other similar programs are currently running on your system. For an alternative software removal method, please refer to the additional set of instructions below this article.