Do you know what Movie Megs is?
Movie Megs is an adware program that might have rolled into your system completely unexpected. In a sense, it would not be surprising if you considered the application a malicious infection. After all, you did not notice when this program got installed, did you? However, we would like to point out that this adware application cannot be installed on a target computer without the user's consent. Therefore, whether you like it or not, it indicates you had your share in allowing the program to enter your system. Let us save ourselves the trouble of crying over some spilled milk, and focus on the matter at hand right now: You have to remove Movie Megs at once without any further ado.
Luckily, you can uninstall the application via Control Panel, and removing the program like that does not leave any leftovers. It is quite fortunate because more often than not adware programs leave some additional files on the affected system when they get uninstalled via Control Panel. These files may continue collecting information on the user's browsing habits, or they could restore the potential infection. Either way, with Movie Megs you do not need to worry about that. Simply scroll down to the bottom of this article and delete the application following the instructions we have prepared for you.
There are several ways to download this program. Movie Megs has an official website that can be accessed via MovieMegs.com. The application is promoted as a tool that can help you browse a free movie library. It sure sounds like a nice thing, to have all of your favorite movies at the click of your mouse. However, downloading the program from the official website does not protect you from potential security issues.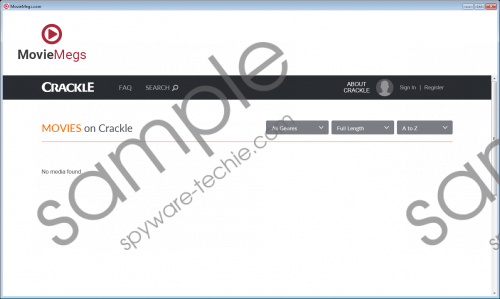 Movie Megs screenshot
Scroll down for full removal instructions
For instance, during our tests, we have found that downloading from the official website also downloads a third-party program downloader. When you launch it, it offers more additional applications that include potentially unwanted programs, adware, and so on. The list of offered applications may differ according to your location, but the bottom line is that the application itself thrives on distributing third-party programs to cover their development cost. What's more, it goes without saying that Movie Megs does not check whether the programs it promotes are reliable or not, so you install them at your own risk.
Moreover, the application itself can also be distributed in software packages. This is how users download and install it without realizing that they agree to have the program on their computers. During our research, we have found that Movie Megs often comes with download offers, and it may be promoted via modified search results. If you happen to click a search link and the adware download is initiated automatically, it means that your computer's security has been compromised prior to the adware installation.
Potentially unwanted programs and adware draw similar applications like a magnet, so you would do yourself a favor if you ran a full system scan with the SpyHunter free scanner. Not only would you intercept and delete all the files associated with Movie Megs, but you would also be able to terminate other potential threats that could possibly be running on your computer.
Why is it important to remove adware? The problem with such programs is that they are highly vulnerable to third-party exploitation. Although Movie Megs itself may not infect you with malware, this application can display multiple pop-ups full of third-party advertisements. It may redirect you to interest6.valuedinformation.com, savings-galleria.com, and many other commercial websites that could result in a potential monetary loss. Movie Megs behaves just like its predecessors, and we know quite a few programs that have entered multiple computers worldwide having the same purpose in mind. The programs include CareerPronto, GameWham, CruchTravel, and others.
All these adware applications look like they can offer you something useful, but the truth is that the only people that benefit from your having these applications on-board are their creators. Please remove Movie Megs and other potentially unwanted and dangerous programs from your system. You may think it unlikely, but adware applications may lead to severe malware infections and other computer security-related problems.
Should you require any assistance with adware removal, do not hesitate to contact us. You should also invest in a computer security program that would protect your system from similar intruders in the future.
How to Remove Movie Megs
Windows 10 & Windows 8.1
Press Win+R and type Control Panel into the Run prompt.
Click OK and go to Uninstall a program.
Remove the unwanted application.
Windows Vista & Windows 7
Open the Start menu and go to Control Panel.
Select Uninstall a program and remove the adware application.
Windows XP
Click the Start button and navigate to Control Panel.
Open Add or remove programs and uninstall the unwanted application.
In non-techie terms:
Some users think that Movie Megs is a useful application that can help you watch movies for free. They could not be more wrong because this program is an adware application, and it means that it may inadvertently expose you to potential computer security threats. Please delete this application from your computer right now to avoid other issues in the future. You should also terminate other unwanted programs because adware seldom travel alone.