Do you know what MoreForLess is?
If you are annoyed by third-party pop-up ads and coupons when you go surfing the web or shopping online, your computer may be infected with MoreForLess, which is an adware program. According to our researchers who tested this adware in our internal lab, it belongs to the Multiplug adware family. These programs may not be considered as dangerous threats to your computer because they do not damage it directly. However, you cannot ignore the fact that they may introduce you to unreliable third-party ads and through those you could be exposed to unsafe websites. Obviously, you must refrain from clicking on any of these commercials at all costs. That is why the best for you to do is remove MoreForLess right away. Why would you wait till you may face more issues?
Although this application claims to aid you "to experience the best online shopping experience," what you will really experience is the unstoppable flow of useless third-party advertisements. However, not only are these ads rather annoying and disruptive, but they may also cause system security issues once you start clicking on them. You might think that it is okay to leave MoreForLess on your system because you will be able to ignore the ads or you will simply close the pop-ups if they get too annoying.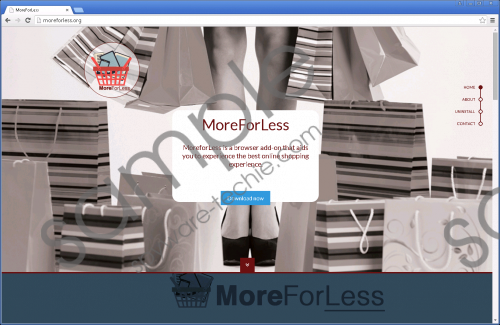 MoreForLess screenshot
Scroll down for full removal instructions
Did you know that this adware can collect information about you and share this with third parties? Did you know that you could be targeted by fully customized commercials that feel like they can "read your mind"? Do you think you can say "no" to an ad that offers you the "best" available price for a product you actually want to get? What if cyber criminals have sent that ad for you to lure you onto their malicious website where they can scam you in many ways? We do not think that you need any more questions to see how bad this could end for you. That is why we suggest that you delete MoreForLess as soon as possible.
Even if this application has an official web page at moreforless.org, it is not available for download, which is rather strange but quite an ordinary thing when it comes to suspicious tools. MoreForLess is known to be spread in third-party installers; most commonly via InstallRex and Amonetize installers. These may, however, be packed with a bunch of malware infections. According to our researchers, this adware may be distributed with, for example, LightningDownloader and Websearch.hotfindings.info. If you have such infections on-board, there are clear signs usually. But those signs may, unfortunately, expose you to unsafe content. Therefore, it is important to not just delete MoreForLess alone, but all other threats as well.
In order to eliminate this malware threat, you need to find the application in the list of installed programs in Control Panel and uninstall it. Then, you need to remove the remaining extensions from your browsers. If you have no clue how to do that, please refer to our instructions below. If you want to be sure that your machine is free of threats, we would recommend you to use a trustworthy malware removal application, such as SpyHunter. Automated security tools are very easy to use because with the click of a button you can detect and remove all existing infections. Protect your computer this way if you do not want to fight against malware threats in the future.
How to remove MoreForLess from Windows
Windows 8/Windows 8.1/Windows 10
Press Win+X and go to Programs and Features.
Click on the application and click Uninstall.
Windows Vista/Windows 7
Click on the Windows button on the Taskbar.
Choose Control Panel.
Open Uninstall a program.
Click on the application and click Uninstall.
Windows XP
Click on the Start button and select Control Panel.
Open Add or Remove Programs.
Click on the application and click Remove.
How to remove MoreForLess from your browsers
Mozilla Firefox
Press Alt+T to open the Tools menu and go to Add-ons.
Choose Extensions on the left.
Click on the extension and press Remove.
Google Chrome
Press Alt+F and select Settings.
Choose Extensions on the left.
Click on the extension and click on the trash can.
Press Remove.
In non-techie terms:
MoreForLess is a worthless ad-supported program that was only developed to make money for its creators. It has no benefit for you whatsoever. In fact, the third-party ads this adware keeps displaying on your computer screen may put your system's security at risk if you click on them. Unfortunately, if your PC has been infected with this adware, chances are that there are other malware programs on-board as well. In order to secure your computer, we recommend that you remove MoreForLess and every other potential threat associated with it.