Do you know what Mordor Ransomware is?
If the ".mordor" extension is attached to your personal files, you can blame Mordor Ransomware for that. This dangerous ransomware is also known by the names "Milene" and "Mordorand," but it is generally recognized by the original name because of the association with Mordor from the Lord of the Rings. Even the website associated with this ransomware displays the Eye or Sauron. The truth is that ransomware developers are running out of names, and they simply appropriate well-known symbols and names. There is no deeper meaning behind that; maybe except for the fact that in the world of J.R.R. Tolkien, Mordor represents the "bad guys," which cyber criminals truly are. The only reason they created the malicious ransomware is to get your money, and, unfortunately, they have all of the tools to succeed. If you realize that you need to delete Mordor Ransomware, you are already on the right track, but you should read this report first to learn more about this dangerous infection.
Did Mordor Ransomware attack soon after you opened a suspicious spam email attachment? Amnesia Ransomware, AES-NI Ransomware, and thousands of other similar threats spread using spam emails, but that does not mean that cyber criminals cannot find other ways to distribute this threat. Whatever the case is, this infection immediately employs the AES encryption algorithm to corrupt your files. Soon after that, a file called "READ_ME.html" is created to provide you with more information. This information is represented in Russian and English languages, which might make the infection more lucrative because it can be targeted at a wider audience. The message informs that your personal data is encrypted, and you can learn how to decrypt it only after you enter your personal ID via http://trustmordor.pw. It is not risky to do that, but every step thereon should be deliberated carefully. At the end of the day, the only thing that the creator of Mordor Ransomware wants is for you to pay a ransom, and that might be the worst idea.
Who can guarantee that Mordor Ransomware creator would provide you with a decryption key after you paid the ransom? No one. And that is why you have to consider that maybe your files are lost. Since there is that possibility, do you still want to go through with the payment of the ransom? Of course, you can look for a free file decryptor, but it is unlikely that you will find one that can help you. Most ransomware threats use highly complex algorithms, and third-party decryptors work in very rare cases only. What is more, fake decryptors might exist, and so by installing just any decryptor, you could be getting into bigger problems. If you cannot decrypt your files, you can also place them aside and wait for things to change. If the decryption becomes possible, we will update this report ASAP.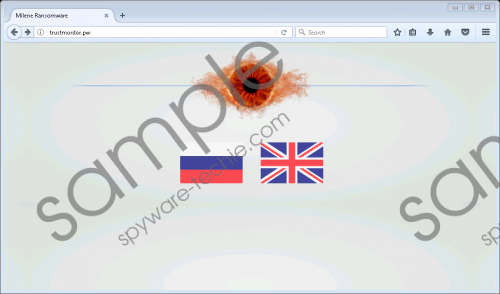 Mordor Ransomware screenshot
Scroll down for full removal instructions
Mordor Ransomware is a devious infection that deserves immediate removal. This ransomware was created to extort money from you, and you cannot give in, even if that is the only option you have. Even though the promise is that your files will be decrypted as soon as you pay the ransom, that is unlikely to happen. The history of other ransomware infections proves that cyber criminals usually just take the money without giving anything in return. Removing Mordor Ransomware manually can be difficult because the file can be inconspicuous, and it does not have a constant name or location. Luckily, a legitimate anti-malware tool can eliminate this file and all other malicious files automatically.
Delete Mordor Ransomware
Right-click and Delete the launcher file (the name of the file is radom).
Right-click and Delete the ransom file called READ_ME.html.
Perform a full system scan just to check for potential leftovers.
In non-techie terms:
Mordor Ransomware is a threat that you have to get rid of as soon as possible. Ideally, you will remove this threat before it encrypts your personal files; however, in most cases, users do not even know that this threat is active on their operating systems. The chances are that you will discover this ransomware only after you find the ".mordor" extension attached to your files, or when the "READ_ME.html" file is created. If you cannot find and remove Mordor Ransomware components manually, you should go ahead and install anti-malware software. It will not only take care of existing threats but will also ensure that your operating system is guarded in a way so that other threats cannot slither in again.