Do you know what Moosjs.cn is?
Our research lab team says that Moosjs.cn is a browser hijacker that affects all the major browsers in the market. Browser hijackers are very annoying infections that can seriously jeopardize your system's security. Although they do not aim to destroy your system or steal your financial information, you should still take this intruder seriously.
In this description, we will tell you more about the program, and we will also show you how to remove Moosjs.cn from your computer. Please note that this browser hijacker might be just one of the many potential threats that are plaguing your system.
As far as the infection symptoms are concerned, you will know immediately that you have an intruder in your system because this program will modify your homepage without your permission. Moosjs.cn will also connect to the Internet without your permission, thus collecting information on your web browsing habits. All browser hijackers do that because they need to find out more about your likes and preferences as they have to target custom commercial advertisements at you. In that aspect, there is nothing new about this infection, but we should take a closer look at its infection's vector because it is rather alarming.
According to our research, Moosjs.cn is a clone of yeabests.cc and yeabd66.cc. While most of the browser hijackers get distributed in software bundles, this infection is dropped on a target computer by a Trojan. A Trojan is a severe computer security threat that remains hidden for a long time. Therefore, if you see that your homepage was changed to Moosjs.cn, you should run a full system scan with the SpyHunter free scanner immediately. You need to locate the malicious infection on your computer and remove it at once; otherwise you could be facing severe security issues soon enough.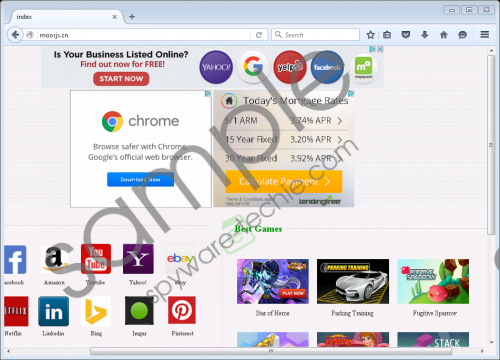 Moosjs.cn screenshot
Scroll down for full removal instructions
This browser hijacker mostly affects computers in India, Indonesia, Brazil, Egypt, and Saudi Arabia, although it does not mean it cannot enter computers in other countries, too. It is necessary that you refrain from visiting websites that could be full of annoying pop-ups and other exploits. Trojans often enter computers pretending to be something they are not, so you could have initiated the download thinking that the Trojan was some useful program. That is why computer security experts always point out how important it is to download programs from their official websites. Also, if you are not sure whether the file you are about to launch is safe or not, you can always scan it with a security tool.
This infection is rather new though as it was first detected on December 22nd, 2016. Judging from the information gathered during our research, it is possible to say that Moosjs.cn was created in China or by Chinese developers. The pattern is familiar, so we can assume that the same developers created the YeaPlayer application, too, which is classified as a potentially unwanted program. So it shows that the infection is very thorough in its objectives, and it will not leave your computer as simply as you might think.
It might also look like Moosjs.cn could provide you with some useful search results, but the domain does not have its own search engine, and it uses third-party search providers to come up with the search results. Needless to say, these results cannot be trusted because they could be modified according to the information this hijacker collected about you. If you get exposed to corrupt content through these results, it is only a matter of time until you get infected with extremely dangerous threats, so you should not allow this to happen.
Removing Moosjs.cn from your system might be a little bit challenging because the hijacker uses Windows Management Instrumentation (WMI) scrip to reinstall itself. Therefore, when you restore your browser settings to default, you should acquire a security application that will help you destroy all the remaining files associated with this infection.
What's more, you cannot forget the Trojan that brought this hijacker along, so you need to get rid of it, too. If you need any assistance with malware removal, please feel free to leave us a comment below. Our team is always ready to help, and you should do everything you can to protect your information and your computer from malicious exploitation.
How to Remove Moosjs.cn
Internet Explorer
Press Alt+T and go to Internet options.
Open the Advanced tab and click Reset.
Select Delete personal settings and press Reset.
Click Close and scan your PC with SpyHunter.
Firefox
Press Alt+H and go to Troubleshooting information.
Click Refresh Firefox at the top right of the new tab.
Press Refresh Firefox again and click Finish.
Run a full system scan with an antispyware application.
Chrome
Press Alt+F and go to Settings.
Scroll down and click Show advanced settings.
Scroll down again and press Reset settings.
Click Reset and launch a full system scan.
In non-techie terms:
Moosjs.cn might seem like a small annoying nuisance, but this browser hijacker points out to a more serious problem. You could have a Trojan installed on your computer, and it is obvious that you have to take care of such threats immediately. Please invest in a security tool that will terminate Moosjs.cn and all the other infections at once. Your system's safety is in your hands.