Do you know what Mommys Offers Ads are?
Mommys Offers Ads are commercial pop-up ads that jump into your screen when you access online shopping malls. These ads are supposed to help you purchase your favorite goods at a lower price. The ads are generated by the Mommys Offers extension that can be added to your browser. If it was not your plan to have this application installed, you should remove Mommys Offers from your system at once. Once you get rid of the extension, the ads will disappear from your browser, too. Do not tolerate these useless pop-ups.
The extension is promoted as the "ultimate Shopping engine." At least this is how it is presented on its official website. We accessed the site at momysoffers.com, but when we clicked the Download Now button, nothing happened. This means that the website is just an empty shell, designed to make the application look reliable. Rather than using the official distribution network, this adware application clearly spreads around through other means. And it is very likely that the most common way for Mommys Offers to enter your computer is to come bundled with freeware.
How often do you download freeware applications? You probably do not even realize that a particular program could cause you some issues when you download free apps from a third-party source. Computer security experts always maintain how important it is to download programs only from their official homepages. After all, sometimes even official installers bundle additional features with their main programs. So there is no saying just how many unwanted applications you may download in one single installer from an unfamiliar file-sharing site. After all, if you did not intend to use this extension, it is very likely that you installed Mommys Offers accidentally with some other application.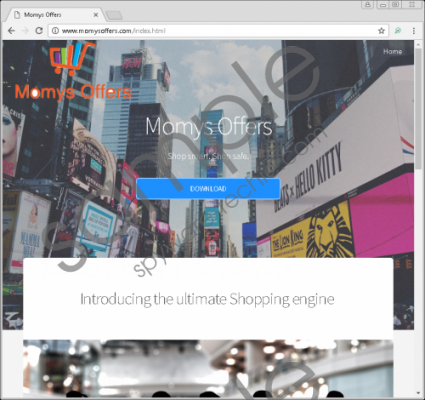 Mommys Offers Ads screenshot
Scroll down for full removal instructions
Are Mommys Offers Ads really that useful? Well, if we were to take a look at the promotional material presented on the official website, it would seem that the application could really help you save your money when you shop online. It says that the extension is a "fast shopping comparison ending that will help you get the best deals available as fast as possible online." It will also "analyse and research the products you're looking for, ensuring highest relevancy with best prices available online." If that were not enough, the developers go on to say that the extension "utilizes cloud technology and high-end algorithms to enable extensive online product search through numerous shopping companies to get an extensive directory of every relevant product you're looking for." It even says that it cares about your safety the most, but this is where it gets slightly fishy.
If Mommys Offers Ads really cared about your safety, the program would not host third-party content. Another thing it does that works on our nerves is the browser settings modification. When you add the extension to your browse, it changes the new tab settings with its own search box that redirects users to api-client.mobitech-search.xyz. This definitely accounts for intrusive behavior, and to top it all, we can say that the program is practically identical to Finders Deals and TorpedoDeals, adware programs we have entered before.
Adware programs themselves are not malicious, but we are always concerned that they could be exploited by cyber criminals. For instance, Mommys Offers Ads may contain outgoing links that redirect users to malware-related websites. Most of the time, it will redirect you to some online shopping mall, but since the extension does not review the third-party content it promotes, it is rather easy for cyber criminals to make use of that for their own goals.
You can remove Mommys Offers Ads when you delete the extension from your browser. Since there might be more unwanted programs installed on your PC, you should scan your system with the SpyHunter free scanner. If you are about to remove one unwanted application, you might as well just get rid of them all.
Finally, protect your PC and your personal information from malicious exploitation by investing in a powerful security tool. A security program of your choice will ensure your system's safety, and you will be able to browse the web without any disturbances. Just stay away from those file-sharing sites!
How to Delete Mommys Offers Ads
Internet Explorer
Press Alt+T and open Manage Add-ons.
Remove the app from Toolbars and extensions.
Firefox
Press Alt+T and go to Add-ons.
Click the Extensions pane and remove the plugin.
Chrome
Press Alt+F and go to More tools.
Open Extensions and delete the application from the list.
In non-techie terms:
Mommys Offers is a program that makes those annoying ads pop into your screen. The extension is installed on your browser, and you can easily remove it if you want. The ads will not try to steal your personal information, but some of them could be embedding with links that lead to corrupted websites. Thus, you need to protect yourself and your system from cyber crime attacks. Get yourself a reliable program that will safeguard your system against similar threats.