Do you know what Mobisearch.co is?
If you glance at Mobisearch.co, you are likely to mistake it for a regular search tool that displays a search dialog box and a few useful tools. In reality, this search engine is not trustworthy, and our research team does not recommend using it. If you consider it to be harmless just because it appears to work with Google and Bing search providers, you need to continue reading this report. You will learn how the suspicious search engine exploits well-known search providers, and how it can expose you to advertisements regardless of which keywords you enter into the search field. You will also learn how to remove Mobisearch.co from your browser, which you might need to do if it manages to take over the default search provider or the homepage By the way, it is more likely to do that on your mobile device, but we cannot guarantee that it will not target browsers on PCs as well.
Mobisearch.co was created by the same company as another suspicious search engine, Browserhome.net. This company is AirFind Corp., and it is officially represented via airfind.com. While both search tools have similarities, it is hard to say that they belong to the same company just by looking at them because their interfaces are very different. Also, Browserhome.net has its own search tool, m.gobrowser.mobi. The one we are discussing in this report shows search results itself, but the results are likely to be stolen from a different search provider. Overall, what is most important is that Mobisearch.co shows sponsored content, and it is shown at the top of the search results' page, just so that you would interact with the links shown. That could be dangerous is the links were added by untrustworthy parties, and, unfortunately, we cannot deny this because the advertisers working with AirFind Corp. are not disclosed.
The home page of Mobisearch.co shows a search field, and three buttons below: "Home Portal," "Google Search," and "Bing Search." The first button opens http://portal.airfind.com/, a site that displays the Google Custom Search field, as well as links to content under such categories as Top News, Tech, Sports, Entertainment, Finance, Health, Lifestyle, Autos, or Electronics. The Google Search and Bing Search buttons open http://portal.airfind.com/google-cse and http://portal.airfind.com/search?provider=bing&s=b respectfully, both of which look almost identical to Mobisearch.co. Regardless of which search tool you employ, you are introduced to the same results and sponsored links. Needless to say, the tool does not offer beneficial services, and that is the primary reason to delete it. We also suggest getting rid of this search provider because the advertisements it displays are distracting and potentially unreliable. On top of all that, it is known that information can be collected and shared between AirFind Corp. and unknown parties. These are the reason to remove the suspicious search tool.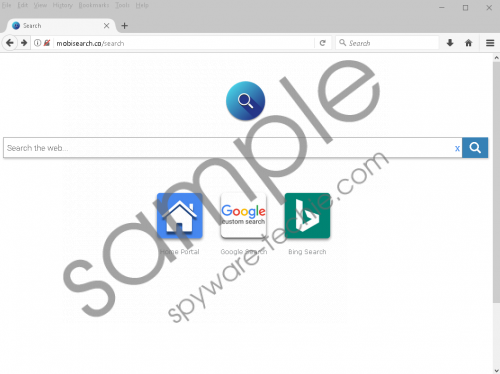 Mobisearch.co screenshot
Scroll down for full removal instructions
How did Mobisearch.co show up? Did it modify your browser? Did it come as a redirect? Whatever the case is, the first thing our research advises doing is scanning your device or operating system. In the worst case scenario, you will find that you need to remove malicious apps or programs/extensions. If you are having issues with the overall removal, please start a discussion in the comments section below. When it comes to deleting Mobisearch.co, we advise resetting browsers. You can do that on your mobile device by reinstalling the app of the browser. Hopefully, that will solve the issue. To prevent pieces like this one from slithering in again, strong security must be implemented as soon as possible.
Remove Mobisearch.co
Internet Explorer
Open the browser.
Simultaneously tap Alt+T.
Click Internet options.
Move to the Advanced tab.
Click Reset.
Mark Delete personal settings.
Click Reset.
Google Chrome
Open the browser.
Simultaneously tap Alt+F.
Select Settings.
Scroll down and click Advanced.
Scroll down to the Reset menu.
Click Reset and confirm the action.
Mozilla Firefox
Open the browser.
Simultaneously tap Alt+H.
Click Troubleshooting information.
Click Refresh Firefox.
Click Refresh Firefox to confirm the action.
In non-techie terms:
If Mobisearch.co shows up on your browser, you need to figure out if you were redirected to this suspicious search engine or if it has corrupted your browser. In both cases, inspecting the mobile device or your PC is a good idea, and you have to make sure that you use a trustworthy and reputable malware scanner for that. If you discover malware, make sure you remove it as soon as possible (if you cannot do it manually, install anti-malware software). If other threats do not exist, you should be able to delete Mobisearch.co by reinstalling and resetting your browsers. Use the guide above to learn how to do that.