Do you know what Mini001 Toolbar is?
If you run Google Chrome, Mozilla Firefox or Internet Explorer you can install Mini001 Toolbar. Despite the ability we do not recommend that you utilize this application at all. Why is this so? It has been brought to attention that the name of the toolbar suggests that it is somehow related to the online gaming website mini001.com. The URL of the source that you can use to download the plugin from also suggests that the represented plugin is linked to online gaming – flashgame.ourtoolbar.com. Regardless, the add-on that you install is called Todorestaurantes Toolbar. This is exceptionally suspicious, and so we advise that you remove Mini001 Toolbar right away.
Have you downloaded any other Conduit programs, like MySavings Toolbar or SweetTunes Toolbar? If you have you should not be surprised that additional programs are installed together with Mini001 Toolbar. In most cases computer users are offered to install TuneUp Utilities and PasswordBox. These applications are not malicious; however, you should remove them if you are not familiar with the way they work and you did not want to install them in the first place. Overall, our researchers point out that it is most important to stay cautious about the Conduit search tools.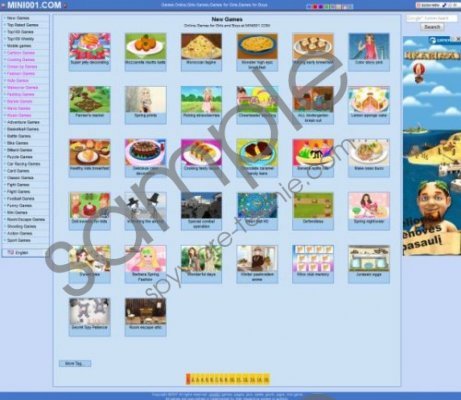 Mini001 Toolbar screenshot
Scroll down for full removal instructions
The home page of your browsers could be changed to search.conduit.com and the search provider could be set as flashgames Customized Web Search. Do not rush to think that you need to remove Mini001 Toolbar because it acts as a browser hijacker. If you have discovered browser setting changes you must have initiated them yourself. Despite all this, we suggest that you do not use these search tools at all and replace them as soon as possible. Do you know why? It is because these search tools filter search results and presents suspicious advertisements which could easily route you to corrupted websites.
Automatic malware detection and removal software can help you delete Mini001 Toolbar and ensure that the PC is safeguarded against any threats in the future, which is why we recommend installing it as soon as possible. Click the download button to install the legitimate, effective remover SpyHunter. Unfortunately, the authentic application cannot help your restore browser settings, which is why you should also use the instructions below.
Delete Mini001 Toolbar
Delete from Windows XP:
Open the Start menu, click Control Panel and then Add or Remove Programs.
Select the unwanted application and click Remove.
Select Remove this toolbar.
Delete from Windows Vista or Windows 7:
Click the Start icon on the Task Bar to open a menu.
Go to Control Panel and then Uninstall a program.
Right-click the undesirable application and select Uninstall.
Click Remove this toolbar.
Delete from Windows 8:
Tap the Windows key to access the Metro UI start screen and right-click on the background.
Select All apps, move to Control Panel and click Uninstall a program.
Right-click the application you wish to remove.
Select Uninstall and then Remove this toolbar.
Remove Conduit search tools
Remove from Internet Explorer:
Launch IE and simultaneously tap Alt+T.
From the appeared menu select Manage Add-ons.
Go to Search Providers and Remove the unwanted option. Click Close.
Once more simultaneously tap Alt+T but this time select Internet Options.
Click the General tab and move to Home Page.
Change the presented URL, click OK and restart IE.
Remove from Google Chrome:
Launch Chrome and simultaneously tap Alt+F.
Under On Startup mark Open a specific page or set of pages.
Click Set pages and change/delete the default URL. Click OK.
Under Appearance mark Show Home button and click Change.
Overwrite/delete the default URL and click OK.
Under Search and click Manage search engines.
Locate the URL of an undesirable search engine and click X to remove it.
Select Done and then restart Chrome.
Remove from Mozilla Firefox:
Launch Firefox and simultaneously tap Alt+T.
Select Options, click the General tab and locate the Home Page.
Change/remove the displayed URL and click OK.
Move to the top-right corner of the browser and locate the search box.
Click the drop-down menu icon and select Manage Search Engines.
Remove the unwanted search provider, click OK and restart Firefox.
In non-techie terms:
We recommend that you remove Mini001 Toolbar and delete all additional programs linked to it. If you do not perform the necessary removal procedures and fail to ensure full-time Windows protection, there is a great chance that your virtual security will fall at risk.
Aliases: Mini001Toolbar.