Do you know what Middle Rush is?
Middle Rush is an adware program that can lead to severe computer security issues if you fail to remove it in a timely manner. If you are constantly assaulted by random pop-up ads that seem to appear out of nowhere, perhaps it is time to scan your PC with a computer security tool of your choice and locate all the potential threats present. Middle Rush is definitely one of them, and the sooner you get rid of this application, the sooner you will be able to breathe a sigh of relief. While you are at it, do not forget to check for other potential threats.
Middle Rush belongs to a significant group of adware applications that try to make the unsuspecting users think they can help them with their web browsing. Our security experts say that Middle Rush is a direct clone of Deals Avenue, Sale Charger, Positive Fines, Strong Signal, and many other adware apps, all based on the Injekt engine. The Middle Rush itself has files that are signed by Billy Break, and if you have been exposed to the Superweb family adware before, you will know what to expect of Middle Rush, too.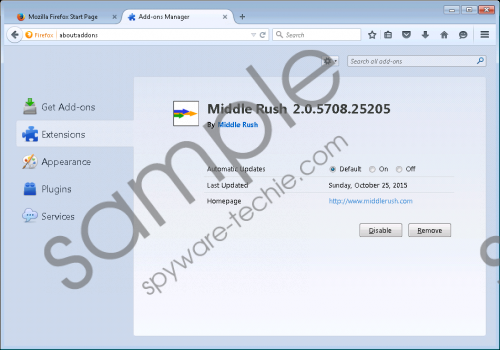 Middle Rush screenshot
Scroll down for full removal instructions
In order to cover its development costs, Middle Rush will collect information on your web browsing habits, and then spam you with commercial advertisements that are supposed related to your likes and preferences. However, the fact that Middle Rush employs tracking cookies to spy on what websites you visit and what queries you enter into your search engines is enough to put the "intrusive" label on the application. It should not be debatable whether you should keep the application on your PC or not. The program is obviously too vulnerable to be trusted, so you should uninstall it immediately.
How does Middle Rush manage to enter your system? The answer is bundled downloads. The program may have the official website, and it is still possible to access it via middlerush.com. However, the site does not have any download link, and it is clearly dysfunctional because it does not offer any additional information about the program. Hence, the only way for Middle Rush to spread is software packages. That is to say, the program is included in a third-party installer that users download from file-sharing websites. This calls for caution whenever you download freeware from unfamiliar websites. Keeping in mind that third-party installers often carry several programs inside, you should be very careful when you install new programs on your PC.
It is very often that users can avoid installing Middle Rush, but they simply miss the chance by skipping through the installation steps. If you care about your system's safety, you would take your time and read every additional clause in the freeware setup wizard. For all it's worth, you might be able to prevent an adware infection.
To get rid of Middle Rush, open Control Panel and uninstall the application manually. This should be enough to terminate this program. Nevertheless, we cannot forget about other potentially dangerous apps that you might have installed along with Middle Rush. If you are not sure which programs must be deleted from your PC, please scan it with the SpyHunter free scanner. This way you will be able to detect any potential threats and remove them instantly.
How to Delete Middle Rush
Windows 10 & Windows 8.1
Right-click the Windows icon on the left of your taskbar.
When the drop-down menu appears, select Control Panel.
Open Uninstall a program and remove Middle Rush.
Windows Vista & Windows 7
Open the Start menu and click Control Panel.
Select Uninstall a program and remove Middle Rush.
Windows XP
Click the Start menu and navigate to Control Panel.
Double-click Add or remove programs and uninstall Middle Rush.
In non-techie terms:
Middle Rush is a minor nuisance that can turn into something nasty lest you leave it alone. The application could be easily taken advantage of by cyber criminals to achieve their own aims. You have to remove Middle Rush from your computer ensuring its safety and stability. Please acquire a powerful antispyware tool if you cannot terminate the application manually, and leave us a comment if you have any further questions on the matter.