Do you know what Microcosm New Tab is?
Microcosm New Tab is an extension that is only compatible with Google Chrome. Although it is officially represented via microcosmtab.com, the installer is found on the Google Chrome store at chrome.google.com/webstore/detail/microcosm-new-tab/nagnmfhgkjkplbhplkbicmpkfopmnefp. At the time of research, this installer did not work, and so it is possible that this add-on is no longer functioning. Of course, other sources could offer the installer, and it could be bundled along with the installers of other suspicious programs. Unfortunately, they could be malicious, and so you should not install it at all. If you have already, we advise scanning your operating system to check if malware is active. If it is, you need to delete it right away. Hopefully, other infections are not found, and you can focus on the removal of Microcosm New Tab. If you are interested in this, you need to read this report.
Although Microcosm New Tab is promoted as a tool that can enhance your experience, its usefulness is highly questionable. In fact, the extension itself is highly questionable because there is no legal information supporting it. If reliable services are represented using privacy policies and other important statements, this extension is only represented using an attractive promise. Can you ignore the fact that legal information is not provided to you? According to our research team, you should not because it is too risky to trust a service you know nothing about. The developer of this extension is unknown, and that means that their intensions are unknown as well. What if Microcosm New Tab was created to spy on you, redirect you, and expose you to unreliable content? Unfortunately, it is quite possible that this add-on will record personal information, spy on you at all times, modify the search results to include ads, and do other potentially dangerous things.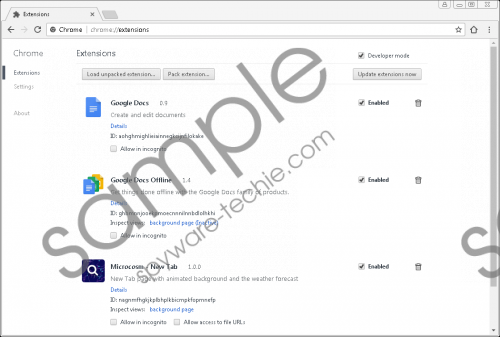 Microcosm New Tab screenshot
Scroll down for full removal instructions
The animation that is represented in the background of Microcosm New Tab can be attractive for you, but that does not mean that this extension offers beneficial services. Sure, it presents the weather forecast, and it provides easy-access links to YouTube, Facebook, Instagram, Pinterest, Amazon, eBay, and other popular services, but that does not make Microcosm New Tab highly beneficial. If you install software, you should make sure that it serves you in a beneficial manner. Of course, it is just as important to make sure that this software is also reliable, and we already know that this add-on is very hard to trust. Before you jump to the removal, we advise that you perform a full system scan. If dangerous infections are found, you need to eliminate them right away. We suggest looking for guides on this website, and if you cannot find them, be sure to mention this in the comments section below.
You can delete Microcosm New Tab from your operating system using the guide below, but we advise employing an anti-malware tool instead. It will ensure that all active threats are eliminated. Moreover, it will keep your operating system protected against unreliable programs and malware in the future, which is something you need to take care of even if you choose to remove the add-on manually. Keep in mind that if you are having issues with the removal operation, or you want to discuss anything further, you can do so via the comments section that is open for anyone.
Remove Microcosm New Tab
Launch Google Chrome and then tap keys Alt+F.
Select More tools for more options and then click Extensions.
Identify the unwanted extension and click the recycle bin next to it.
Select Remove and then restart the browser.
In non-techie terms:
Whether you have installed Microcosm New Tab on its own or bundled with other suspicious programs, it is advised that you employ anti-malware software. That is because this software can protect your operating system from other malicious infections, and that is extremely important. Although we are sure that you can delete Microcosm New Tab from your Chrome browser manually, we are not sure that you can keep your operating system malware-free all by yourself. Due to this, it is our recommendation that you employ trustworthy security software. Of course, anti-malware software is also helpful when it comes to the elimination of malicious threats because it can erase them all automatically. So, if you are dealing with multiple threats, and your operating system it not protected, employ anti-malware software.