Do you know what MaxDownload is?
MaxDownload is supposed to be a download manager that can search and download music, video, and torrent files, but, unfortunately, it does not do any of these. As a matter of fact, this application seems to do nothing at all. In fact, it could be advertised as "MaxDownload featuring MinFunctionality." However, since it might get utilized by schemers, it is usually categorized as a potentially unwanted program (PUP). And, as such, you should not keep it on your computer just to take up space. If you care about your operating system's security, it is important for you to learn how this PUP might cause some security issues and why we say that you are better off removing MaxDownload from your PC.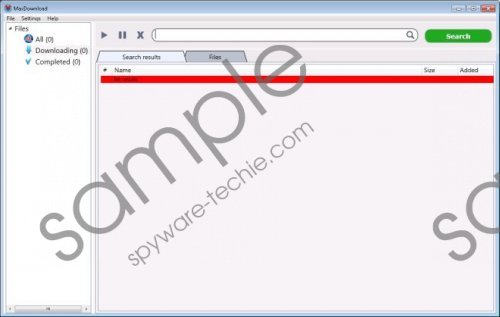 MaxDownload screenshot
Scroll down for full removal instructions
Like most potentially unwanted programs, MaxDownload also has an official website at maxdownloader.com. But this one is sort of unique as it appears in Russian, and you do not seem to be able to change that. Of course, you may assume that the big green button must be the download button, and you can actually initiate the download by clicking on it. However, it is very important to have some basic rules about downloading software and visiting websites if you want to keep your computer safe and protected. First, before downloading any software, you had better research it carefully. Second, never use unfamiliar or suspicious websites because you may easily get infected with malware simply by clicking on ads or fake buttons.
Another way this PUP can be distributed is in free software packages, which is definitely the more worrisome of the two. Why is that so? Because there are installers and downloaders that may contain malicious programs along with authentic freeware. Most users hardly ever read the agreement or the installation pages of the wizard, and that is how they end up with a bunch of infections sneaking onto their systems. If the presence of MaxDownload comes as a surprise to you, you would be better off removing it and also running a system scan to determine if there are any other files or programs that may risk your system's security.
MaxDownload, as we have mentioned above, has no function at all. Although it poses as a download manager, you cannot even use its search tool and it cannot handle torrent files either. Nevertheless, this program makes sure that it activates when Windows starts up. You need to know that it is possible for schemers to make use of this application and misuse it. They can simply use it for collecting information about your hardware and software, but these people are an inventive lot, that you can be sure of. In order to avoid exposing your system and yourself to criminals, you might want to know how you can get rid of this potentially unwanted program.
MaxDownload can be removed with minimal effort, and that is definitely a silver lining when it comes to unwanted programs. Find and run its uninstaller in the installed programs list in Control Panel, and the useless software will be gone. However, if you wish to prevent more dangerous and malicious programs from entering your system, you should not hesitate to invest in an authentic antimalware tool, such as SpyHunter. This security software can identify and eliminate all known infections automatically and safeguard your system at the same time. Of course, it is always best to keep all your software and drivers updated for more effective protection against cyber criminals.
MaxDownload Removal Guide
Windows XP
Press Start and go to Control Panel.
Click Add or Remove Programs.
Click on the unwanted program and click Remove.
Windows Vista & Windows 7
Press Win+R and type in Control Panel. Click OK.
Click Uninstall a program.
Click on the unwanted program and click Uninstall.
Windows 8 & Windows 8.1
Press Win+X and navigate to Control Panel.
Select Uninstall a program.
Select the unwanted application and click Uninstall.
In non-techie terms:
MaxDownload is a completely worthless application that has no function at all; therefore, it is called a potentially unwanted program. Although directly it does not mean any harm to your system, it is not a beneficial program that you should keep. Since it is possible to exploit the vulnerabilities of this PUP, we recommend that you remove MaxDownload from your system. In order to make sure you have no related malware infections on your computer, we also advise you to install a reliable antimalware program to protect your PC from future attacks.