Do you know what Math Problem Solver is?
Math Problem Solver is an application that might get on your system unnoticed. As you have probably understood from its name, this application promises to help you solve different math problems; however, it is not true at all. Our security specialists have found out that his application works as a Botnet. It means that it is not going to do anything beneficial for you because it has been created for other rather unfair purposes. Thus, you should definitely not keep Math Problem Solver on your system. If you decide to ignore our advice, it is very probable that it will slow down your computer considerably, which is why it might be difficult to perform different actions using it.
You should not expect this program to help you solve mathematical equations while your computer is idle because in reality Math Problem Solver has been created in order to mine Bitcoins for cyber criminals. As you can see, your computer resources are used in order to make money for somebody else. As a consequence, you might notice that your computer started working very slowly. It is actually the main reason why we do not recommend keeping this application on your PC. Luckily, it is not very easy to remove it. Read throughout the article and find out how to do that.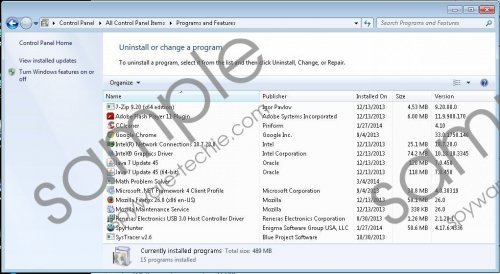 Math Problem Solver screenshot
Scroll down for full removal instructions
It has not been noticed that Math Problems Solver would have its official website; thus, it is very probable that it has entered your system together with other applications. It has been noticed that this botnet usually comes bundled with SpeedUpMyComputer. The only way to avoid various applications and prevent them from getting on your system is to select Custom installation every time. If you do so, you will be able to avoid different kinds of threats. You should also know that all these unfamiliar programs might act somehow unacceptably; thus, it is important to get rid of them as well.
Math Problems Solver can be easily removed via Control Panel. If you still do not know how to do that, you should follow the instructions provided below. As this program is classified as botnet, malware removal tools would also detect it; thus, you can leave all the work for an automatic tool, for instance, SpyHunter. It will not only detect different kinds of threats, but also protect your system 24/7.
Math Problems Solver removal
Windows XP
Open the Start menu.
Select Control Panel.
Click Add or Remove Programs.
Click on the useless application.
Select Remove.
Windows 7 and Vista
Click the Start button to open the menu.
Select Control Panel and then access Uninstall a program.
Locate Math Problems Solver on the list and then select it.
Click Uninstall.
Windows 8
Access the Metro UI menu.
Start typing Control Panel and then select it.
Click Uninstall a program.
Click on the application that needs to be removed and then select Uninstall.
In non-techie terms:
Many unwanted programs act as very useful tools in order to convince you to keep them on your system. Math Problem Solver is not an exception. It promises to help you solve math problems; however, in reality it just uses your computer's resources to mine Bitcoins. You should definitely not keep it on your PC. Do not forget to scan your system with a reliable scanner after the manual removal in order to find out if there are no other threats left. Click on the button below and download FREE reliable scanner.
Aliases: Math Problem Solver virus.