Do you know what Mapmywayfree Toolbar is?
Mapmywayfree Toolbar is yet another questionable application from Mindspark Interactive Network, Inc. This publisher has released quite a lot of potentially unwanted programs (PUPs) in the past, which is why it is considered to be unreliable among computer security specialists. As you probably have guessed their recent add-on was also categorized as a PUP. It might not be a malicious application, but users should know there is a chance the add-on might display potentially dangerous advertisements from various third parties. Consequently, it is advisable not to use it if you cannot stand annoying ads and do not want to risk encountering ones that could put your computer at risk. Luckily, deleting Mapmywayfree Toolbar is not so complicated, and if you see the removal guide available below this report, you could learn how to get rid of it manually.
Further, in the text, we would like to talk more about Mapmywayfree Toolbar. For starters, it seems the application is distributed through the chrome.google.com/webstore. Besides, our computer security specialists believe it might be traveling with bundled installers available on torrent and other untrustworthy file-sharing web pages alike. We cannot list programs or setup files to which the PUP could be grouped, but we can tell you how you could avoid receiving it. In some cases, installers have advanced, or custom installation settings and choosing it sometimes allows to see additionally suggested tools or even deselect them. Meaning, after learning about unwanted software user could either try to uncheck it on the configuration wizard or cancel the process. Obviously, another way to avoid setup files that might be bundled with potentially dangerous programs is to stay away from shady file-sharing websites, which may offer them. Plus, if you keep a reputable antimalware tool installed; it could warn you about possible threats.
As explained earlier, the PUP offers a variety of links providing timetables or directions, but the same websites can be accessed without even installing this extension. However, our computer security specialists say Mapmywayfree Toolbar might be not only useless but also potentially dangerous as the add-on could display advertisements from various third parties. Apparently, after installing it on Google Chrome, Mozilla Firefox, or Internet Explorer, the application may change user's search provider to hp.myway.com/mapmywayfree/ttab02chr/index.html. During the tests, we learned this search engine could show modified results, and there is a chance it might place annoying ads among them, for example, pop-ups or banners leading to scam web pages, websites distributing other PUPs or even harmful threats, and so on. This is why we would not advise searching the Internet with the search engine presented by Mapmywayfree Toolbar.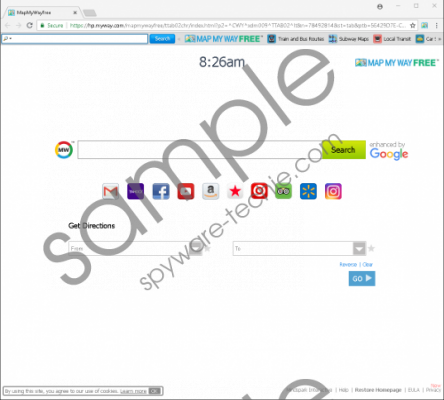 Mapmywayfree Toolbar screenshot
Scroll down for full removal instructions
All in all, if you find the application suspicious as we do and do not want to take any risks with this add-on we recommend erasing it before anything bad happens. To eliminate the PUP manually, you could follow the removal guide available a bit below the report. Also, you could get rid of Mapmywayfree Toolbar with the help of a reputable antimalware tool too. In which case, we advise picking a tool developed by a reliable company and scanning the system with it. Then just click the deletion button and let it deal with all detections at once.
Eliminate Mapmywayfree Toolbar
Google Chrome
Press ALT+F.
Click on More Tools and select Extensions.
Choose the add-on and click Remove.
Mozilla Firefox
Press CTRL+SHIFT+A.
Choose Extensions.
Find the application and select Remove.
Erase Mapmywayfree Toolbar from Internet Explorer
Windows XP/Windows Vista/Windows 7
Navigate to the Start menu.
Access the Control Panel.
Pick either Uninstall a program or Add or Remove Programs.
Click Mapmywayfree Toolbar and select Uninstall.
Windows 8/Windows 10
Tap Windows key+R.
Insert Control Panel and press OK.
Choose Uninstall a program.
Select the unwanted program and press Uninstall.
In non-techie terms:
Mapmywayfree Toolbar might be presented as a useful application for anyone who wants to get directions, learn timetables of buses, trains, or other transportation, but the truth is it can only redirect the user to popular maps and traffic web pages. In other words, the extension does not have any integrated tools and the sites it may redirect the user to could be bookmarked to reach them same fast without the application. To be more accurate, you do not have to install this PUP to be able to visit the sites it might provide links to. Therefore, considering the add-on could show questionable advertisements from various third parties we would advise not to take any chances with it. If you decide to get rid of it manually, you could check the removal guide available above. Our computer security specialists say it will show users how to delete the PUP from the major browsers. Another thing you should know is the extension can be erased with an antimalware tool as well, so if you like this idea more, we encourage you to install a reputable antimalware tool and perform a full system scan.