Do you know what Mansjournaln.info is?
Mansjournaln.info is an adware server that our research team identifies as an adware helper. It was set up to assist third-party advertisers, and it could be employed by many different parties. This server was specifically designed to show ads and generate clicks, which, ultimately, might help earn a lot of money. As you might already know, a pay-per-click system can be set up to generate profit for every click made, and this adware helper can successfully expose its victims to a ton of different ads to collect money from the parties standing behind these ads. In many cases, this server shows banner ads on unreliable or corrupted websites, and it might introduce you to pop-ups as well. Unfortunately, it is also possible that a program active on your computer is communicating with this server to bombard you with potentially unreliable and annoying advertisements. In this case, you will remove Mansjournaln.info ads only by deleting the malware linking to this server.
According to our malware research team, the infections associated with Mansjournaln.info are most likely to spread packaged with Russian software. To trick you into installing malware, a desirable offer must be made, and so it is likely that an attractive program will be in the center of your attention. When you begin installing it, you will be offered third-party software. In some cases, you might even be forced to install it in order to acquire the program you are after. If that happens, you should be alarmed immediately, and it is best to abort the installation right away. In the worst case scenario, the software packaged along with the desirable program will slip in without any warning, which means, that it might run without your knowledge. Therefore, as soon as you notice suspicious ads popping up, you should scan your operating system with the assistance of a legitimate, trusted malware scanner. If malware is active, you will be warned about it right away.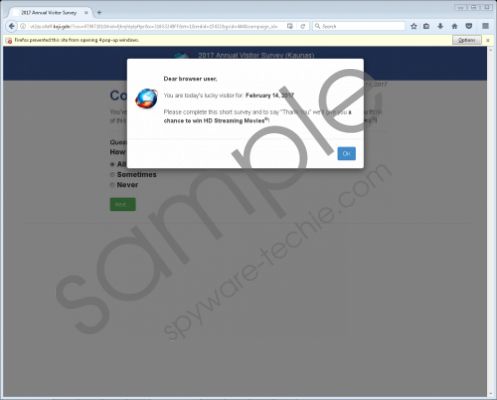 Mansjournaln.info screenshot
Scroll down for full removal instructions
Mansjournaln.info is capable of flooding you with ads because a scheduled task is added upon execution. In the sample tested in our internal lab, the task was called "httpmansjournalninforifussm" (after mansjournaln.info/rifussm), and it was set up to automatically open up Google Chrome and redirect to a page representing ads every 33 minutes. Of course, the interval could be modified to display advertisements more frequently. Youhomepage.org and Howtonews.ru are adware helpers that work in the same way. Unfortunately, if you do not realize that malware is redirecting you to potentially unreliable sites, you might not recognize attractive ads, surveys, and prize giveaways as threats. If you interact with any content associated with Mansjournaln.info, you might be tricked into installing more dangerous infections and disclosing personal information that could be exploited in the future. For example, if you disclose your email address, cyber crooks could flood you with spam emails. Some of them could even promote malware installers!
It is crucial that you scan your PC before you attempt to delete Mansjournaln.info because you want to know exactly what you are dealing with. Hopefully, this adware helper can be eliminated by resetting your browsers and erasing the scheduled task, but you might also need to eliminate other infections. If you can erase them yourself, go for it. If you cannot, have a legitimate anti-malware application remove them automatically. In fact, using this software is the best idea because it is also irreplaceable when it comes to the protection of your operating system, and it is obvious that you need that.
Remove Mansjournaln.info
Launch Explorer by tapping Win+E keys on the keyboard.
Enter %WINDIR%\System32\Tasks into the bar at the top.
Right-click and Delete the task representing the adware helper (e.g., httpmansjournalninforifussm).
Reset the browsers as shown in the guides below.
Reset Mozilla Firefox
Open the browser, tap keys Alt+H, and select Troubleshooting Information.
Click the Refresh Firefox button on your right.
Click Refresh Firefox again and then restart the browser.
Reset Internet Explorer
Open the browser, tap keys Alt+T, and then choose Internet options.
Click the Advanced tab, then click the Reset button, and choose Delete personal settings.
Click Reset again and then restart the browser.
Reset Google Chrome
Open the browser, tap keys Alt+F, and choose Settings.
Navigate to the bottom, click Show advanced settings, and then click Reset settings.
Click the Reset button and then restart the browser.
In non-techie terms:
Mansjournaln.info might be hard to understand, but its removal should not be too complicated. Use the guide below to reset your browsers and delete the scheduled task, and then scan your operating system again (use the scanner beforehand as well to identify malware) to see if your operating system is clean. If manual removal is not for you, install legitimate anti-malware software to have malicious threats eliminated automatically. If you want your operating system guarded against malware in the future as well, you should keep this software installed. Do you have questions regarding the removal of this malicious infection? If you do, add them to the comments section below.