Do you know what Manifestus Ransomware is?
If you saw a suspicious notification signed by "Jhon Woddy, Microsoft" before the computer got infected it is possible you might have encountered a malicious program known as Manifestus Ransomware. It displays a full-screen window warning users not to turn off their computer because it could be damaged. Actually, by turning off the computer, it might be possible to interrupt the malware and protect its targeted files from being damaged. Unfortunately, if users allow Manifestus Ransomware to run, it may lock their most valuable data. Like it is not enough the malware's developers could also demand users to pay a ransom. We have to warn you that putting up with such demands is rather risky and so we advise you to erase the threat instead, for example, by following the removal guide located below.
To learn more about Manifestus Ransomware we encourage you to read the rest of the article. For starters, we will explain to you how this malicious application could be distributed. Our researchers believe the infection might be traveling with suspicious email attachments. For example, the attachment may have the appearance of a Microsoft Word, Excel, PDF, or any other document. The text next to it might claim it is crucial to review the attached file as soon as possible. For instance, the letter could say the attachment is an important document from your bank or any other institution.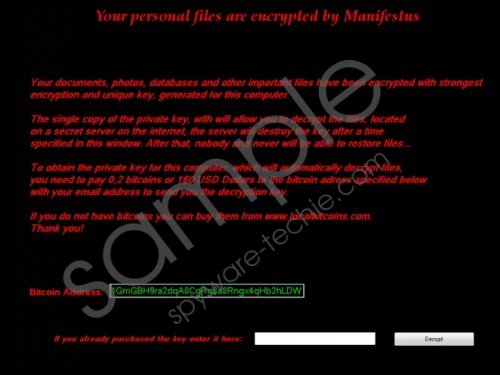 Manifestus Ransomware screenshot
Scroll down for full removal instructions
Therefore, it might be not that easy to identify malicious attachments and protect the system from malware such as Manifestus Ransomware. If you have not installed reliable antimalware software yet, we would advise doing so since it could assist you the next time you encounter suspicious data. For example, users could use the tool to scan questionable files. Plus, if you keep this software fully updated it might be able to warn you and guard the computer against newer threats.
When Manifestus Ransomware manages to enter the system, it should start by locating user's photographs, pictures, videos, databases, text documents, and other private files. This targeted data should be encrypted during the time the malware opens a borderless window with fake notification from the user's operating system. The text on it might say the system is updating and that you cannot interrupt this process, but in reality, the infection should be in the middle of the encryption process.
Compared to similar malicious applications, the notification displayed by this particular ransomware is not so convincing as it does not even have Microsoft Windows logo and the text has a few grammar mistakes. Hopefully, at least more experienced users who encounter the infection may understand what is going on and stop it before it is too late. However, if you do not stop the encryption process and wait until the window disappears, the malware should eventually show another notification containing the ransom note from its developers.
It says you have to pay a ransom in given time to obtain a particular decryption key with which you could unlock all encrypted files. The reason we advise against paying the ransom is because the described decryption key might not even exist anymore. Also, who is to say if the malicious application's creators are not lying to you? They probably do not care about their victims' data as they distributed the infection for only one purpose and that is to extort money from users.
If you decide to ignore the demands to pay a ransom, we encourage you to eliminate Manifestus Ransomware. By following the removal guide located below our readers could get rid of it manually as the instructions will show users how to find malicious data belonging to the malware and erase it. The other way to deal with it is to acquire a reputable antimalware tool. Simply, use its scanning feature to identify the ransomware's data or suspicious files belonging to other possible threats and click the deletion button.
Remove Manifestus Ransomware
Press Ctrl+Alt+Delete and click on the Task Manager.
Look for the malicious application's process; it could have a random name, for example, Form1, Form2, or similar.
Mark the process and click End Task.
Exit the Task Manager.
Press Windows Key+R.
Insert Regedit and tap Enter.
Find this specific path: HKEY_LOCAL_MACHINE\SOFTWARE\Wow6432Node\Microsoft\Windows\CurrentVersion\Run
Look for a randomly titled value name, for example, DO NOT OPEN THE FUCKIN RANSOMWARE.
Select this value name and press Shift+Delete.
Exit the Registry Editor.
Check Desktop, Downloads, and other possible locations where you might have downloaded the malicious file you had opened before the system was infected.
Select the malicious file and press Shift+Delete.
In non-techie terms:
Manifestus Ransomware is a malicious threat that might encrypt user's data with a secure cryptosystem. As a result, you could be unable to access any of your photos, pictures, videos, documents, and other important files. Without a decryption key, the only other way to recover damaged file is to replace them with copies provided the user has any copies. Needless to say that they should be located on a flash drive, external hard drive, or anywhere else besides the computer, which got infected. Most importantly, we recommend eliminating the malware before placing any copies just to be safe. The threat can be erased manually if you follow the removal guide located above or automatically if you install a reputable antimalware tool.